Astral Explorations with Cindy Blackman Santana: Via The Spectrum Road Special "Playboy Jazz Festival" Interview






by

Astral Explorations with Cindy Blackman Santana: Via The Spectrum Road
Special "Playboy Jazz Festival" Interview
by A. Scott Galloway
Explorative. Expressive. Expansive. These are admirable adjectives to describe the creative aspirations of drummer Cindy Blackman Santana. She is currently a key member of the jazz-rock quartet Spectrum Road which was initially founded in homage to the innovative music of drummer Tony Williams and his ever evolving late 60s to mid-70s band The Tony Williams Lifetime. Spectrum Road – all-stars all – consists of Cindy Blackman Santana on drums, Jack Bruce (a one time member of The Tony Williams Lifetime and most famous for being a member of power rock trio Cream with guitarist Eric Clapton and drummer Ginger Baker) on bass and vocals, Vernon Reid (founder/leader of Black Rock coalition star band Living Colour) on guitar, and John Medeski (one third of jazz rock jam band Medeski Martin & Wood) on organ and mellotron.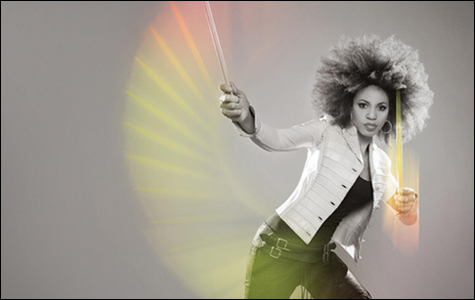 Spectrum Road is performing Sunday, June 17 – Father's Day – at the 34th Annual Playboy Jazz Festival at the Hollywood Bowl. It is one of the most anticipated sets of the 2-day weekend event. For L.A.-based followers of Ms. Blackman Santana such as myself, it is a cause for celebration as she rarely gets to flaunt her jazz chops on the west coast. Now that she is married to Carlos Santana and lives in his longtime home of Northern California, that may change, but this show is sure to be one for the memory banks.
Spectrum Road's self-titled and passionately rendered debut album (via Palmetto Records) picks up where Cindy's last solo album, Another Lifetime, left off, lifting up the guiding spirit of Tony Williams by reimagining some of the classic compositions he recorded with his band Lifetime by composers such as Larry Young, John McLaughlin, Carla Bley, and Tony himself. There's also a band original and a traditional Scottish folk song brought into the here and now.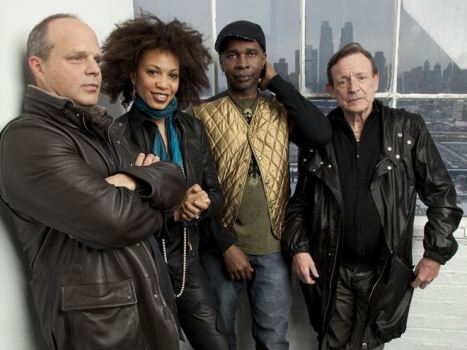 (l to r: John Medeski, Cindy Blackman Santana, Vernon Reid, Jack Bruce)
Before we get into my broad and fairly in-depth discussion with the lady, here are
10 Cool Things to know about Cindy before you read our conversation:
1.  Cindy was born in Yellow Springs, Ohio into a family of musical matriarchs. Both her mother and her grandmother were classical musicians. Poetically and prophetically, her uncle was also a vibraphonist.
2.  Cindy discovered drums at age 7 during a friend's pool party. On a bathroom run, she was stopped in her tracks by the sight of drums all set up and ready to play. Instantly drawn to them, she sat down, rocked them, and felt immediately connected – in no ways intimidated.
3.  Cindy moved to Connecticut at 11 and began studying harmony and basic applications for drum set at Hartt School of Music in Hartford.
4.  Cindy became interested in jazz at 13 after listening to a Max Roach record and got her first professional drum set soon after (she'd had "toy" ones and pieces up to that point).
5 Art Blakey was Cindy's musical father figure and she eventually encountered all of the living jazz greats once she moved to New York. But it was at 16 when she first met Tony Williams at a local music store drum clinic that she says she first felt the impact of jazz drumming up close.
6.  Among Cindy's first professional gigs was playing behind `50s Rock `n Roll vocal group The Drifters.
7. Cindy was asked to fly from NYC to L.A. to audition for Lenny Kravitz after he asked her to play a lil' something over the phone and blew him away. Within two weeks, she was featured bashin' skins in his now-classic video for "Are You Gonna Go My Way."
8. Cindy has recorded nine albums as a leader, initially on Muse then High Note, and eventually on her own imprints Sacred Sounds and Four Quarters. Her debut album, Arcane (1988), found her surrounded by the legendary likes of Joe Henderson, Buster Williams, Larry Willis and Clarence Seay along with peers Kenny Garrett and Wallace Roney.
9. Mexican Rock and Music legend Carlos Santana proposed to Cindy on stage – July 9, 2010 – after a drum solo she took sitting in with his band Santana in Tinley Park, IL. They married later that year in Maui, Hawaii, on December 19, 2010.
10. Cindy does yoga and karate to say in astounding physical shape. She and First Lady Michelle Obama recently compared arm musculature.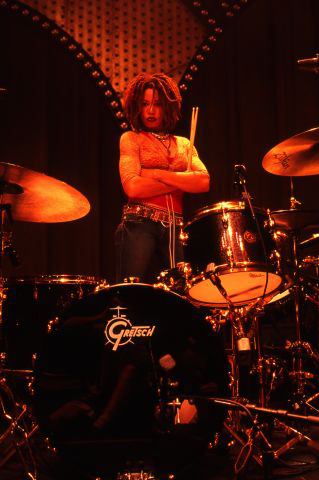 And now, here's Cindy on the band, Tony, Carlos at home…and who she wants to win the 2012 NBA Championship.

A Scott Galloway: What is the significance of the name Lifetime to you?
Cindy Blackman Santana: The excellence and adventuresome outpouring from Tony Williams on the very first jazz-rock record. It was very explorative – beautiful melodies and explorations. He threw caution to the wind but with knowledge of control and discipline.
ASG: What is the significance of the band name Spectrum Road?
CBS: I love that title…the mind can wander many places with that title. First of all, it stems from the name of a song on Tony's Emergency album ("Via the Spectrum Road"). The lyrics talked about the journey those guys were making as a band. For us, it signifies a band's journey and finding new pathways. It's all about explorative nature.
ASG: Spectrum Road pulls from a wide range of Tony's musical directions across a `69-`79 decade and seven albums he recorded – each completely different from the one before it. Yet you all approach the material in completely new ways.
CBS: That was a collective choice based on what we liked. For example, "Wildlife" everybody loves. Jack played that a lot with Tony. It feels like home for him. He had played that song with Tony when it had another title in the Turn it Over era (1970). He didn't even know it as "Wildlife!" That was a bit of history to learn.  For Jack, it's personal. For me it's personal because like the rest of them, I loved the music. From the moment I heard it I was growing on it. When I lived in Boston that's when I got into it. I actually heard Believe It first.
ASG: Was the Believe It album (1975) your entranceway into Tony's music?
CBS: My entry way into Tony was hearing him with Miles. My sister's boyfriend said he was the best. He took me to his house. He left the record on and went upstairs to eat dinner while I was listening in basement. He came back and asked me what I thought. All I could say was, "Incredible." He told me it was a 16 year-old cat at the time playing with Miles. The albums were In Europe and 'Four' & More. That was my entry.
The first time I saw him in person was during a music clinic at Creative Music in Wethersfield, Connecticut, a music store owned by the man (Bob Gatzen?) who created Nobel & Cooley Drums. That's where I bought my first drum kit when I was 13 years old. The clinic was just Tony on drums accompanied by bassist Bunny Brunel (soon to be with Chick Corea). The level of music was incredible. I heard V.S.O.P., all of the Miles Quintet stuff, then I gathered everything else I could find.
Tony is my hands down favorite drummer but Art Blakey is like my dad. I also listened to Philly Joe Jones, Roy Haynes, Elvin Jones, Ed Blackwell, Billy Higgins, Louis Hayes, Billy Hart, Jack DeJohnette, Billy Hart… Tony was so schooled, without them he wouldn't have "been"…and neither would I. So they all had extreme importance.
ASG: As a friend, did you get to experience a lighter side of Tony?

CBS: He had a sense of humor, yes…but there was also a "don't mess with me" side that a lot of people ran into and then missed the cool, funny side of Tony. Tony had a lot of angst because when he got the gig with Miles, there was a lot of jealousy. There were some older cats that felt they should have been next in line to play with Miles. They were jealous of this young kid who had the best jazz gig in the universe. When people have that kind of feeling toward you, it affects you. I feel that he was unjustly affected by negativity from other people. So I think that some of the angst that people picked up from him stemmed from the attitudes he had to deal with coming up. And that's unfortunate because it tends to make people not listen to him fairly. That's sad to me…because Tony took the drums further than anybody ever has and is still the latest greatest innovator in my book.

ASG: Do you think that because he had to fight so hard that he overcompensated in his belief of who he was, what his skills were and what he had to bring to the music – that "Ego" he had to have just to believe in himself in the face of all of those jealous older cats?

CBS: He might have been. I never asked him that…nor would I have. I'm not claiming that I was able to discuss everything on the planet with him but I had a very good rapport with him and saw him play a lot on the road. I was fortunate to attend a lot of his gigs. I was so in awe of Tony's drumming that the last thing I was gonna do was ask him anything like that. I was just trying to digest all of his music I'd just heard!
ASG: When was this?
CBS: The `70s is when I first saw him at the clinic. I didn't even get to talk to him that first time. When he asked if anyone had questions, I halfway raised my hand before he said, "O.K., that's it." But I stuck around afterwards anyway just to see him or talk to him. I was upstairs looking at drums waiting but everyone had gone. I went downstairs, thanked the man for having Tony come to the store so I could see him, then my mom came, picked me up and took me home.
I met Tony for the first time in D.C. That was about 1982, the year that I moved to New York. He'd just started his quintet and that was a smokin' band! I was dating Wallace (trumpeter Wallace Roney) at the time so that's how I was able to hang out and see so many of Tony's gigs. I watched, listened and learned a lot. I got to see how he dealt with his band, how he dealt with the public. But mainly I got to see him play the heck out of the drums.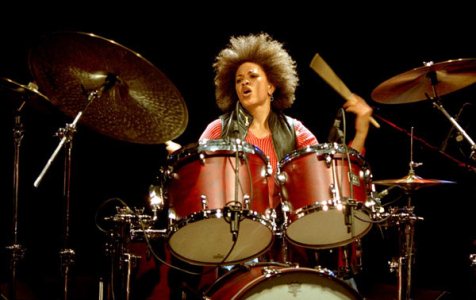 ASG: Anything specific that you learned from him and him only?
CBS: You know, I never took formal lessons from Tony but I did get a lot from watching him. In terms of his technique, it's like no one else's. THAT I got from him as well as his type of 4-way independence. His touch was unlike anyone else's. And his sound…he was a total sound innovator…so not only did he innovate with style he innovated with sound.

ASG: Cecil Taylor stressed to me the importance of Tony's sound on the drums. That's why I love what you do. More than any other drummer I see today, you refract the fire, intensity and energy that I witnessed every time I was blessed to see Tony up close and personal. I totally see "The Tony Connection" when I watch you play and yet you're not a clone. It's amazing to me you were watching Tony so closely in that latter days acoustic quintet period because the music you and Spectrum Road are attacking is all from his jazz-rock era.
CBS: Lifetime was just so incredibly innovative. First of all, jazz-rock was started by Tony with his Emergency album (the fire-starting double-LP released on an unsuspecting world by Polydor in 1969). Nobody had done that before. And everything that came after that – except for his stuff – was a watered down version. All that stuff that they call fusion is a watered down version of what Tony was doing. Tony implemented all of the stuff that we're talking about – the rock side of things, the African influences, the Indian and Brazilian rhythmic forces – Tony, (organist) Larry Young and (guitarist) John McLaughlin created this music. So, of course, I wanted to play it.
The acoustic quintet music is amazing as well. But there is an excitement I really wanted to capture with the electricity that Tony had when he was playing rock. I love raw stuff. But jazz is intelligent, very colorful, moody and multi-dimensional. To me to be able to have all of that at my disposal on one plate is so exciting that I really wanted to play his music. I have a band that plays his music as well (Another Lifetime). When Vernon called me for this, I had to say of course. I didn't know who the other players would be. At first it was just me and Vernon. Then Jack came aboard and then John came aboard.
Spectrum Road is definitely going its own way with new stuff creeping in. It's definitely getting its own voice.
(Here's a split clip of Spectrum Road in Seattle 2011 playing parts of Tony Williams' compositions "Wildlife" featuring a solo by Jack Bruce on bass, and "There Comes a Time," featuring a guitar solo by Vernon Reid and a blistering drum solo by Cindy.)
ASG: John is probably the most underrated and lesser known of the four.
CBS: That depends on the circles you're talking about. We played the Bonaroo Music Festival (in Tennessee) last week. We got there Friday. After our rehearsal, he played with a band. Then on Saturday, Spectrum Road played at midnight but John had already played three times prior to that! He's got a really nice profile and a lot of people that follow him – rightfully so because he's an incredible musician and an amazing individual.

ASG: Did you know him before Spectrum Road or learn more about him once you started playing with him?
CBS: I knew of him prior because I had seen Medeski Martin & Wood. My first exposure to him was on a Lenny Kravitz tour when we were on Blues Traveler's HORDE Tour. We were on the whole your that summer and MMW came in and out for a few shows. John is an amazing player.
ASG: One of the unusual things he does on the record is actually solo on the mellotron, an instrument typically utilized more for coloring and layering.
CBS: Exactly. It's very cool actually.
ASG: Were you labeled a "tomboy" early on for gravitating toward an instrument once reserved for boys?

CBS: Are you kidding…I was a tomboy! I played basketball and baseball. I have my brother to thank for that because he didn't want a lil' sister. He wanted another brother. So he taught me how to play all of the sports he loved. I stuck with basketball throughout junior high and high school. I played on teams and I loved it. I still love it. I'm excited about watching the play-off games tonight.
ASG: Who are you pulling for?
CBS: OKC in the hoooouse!!
ASG: That's what I'm talkin' about, if for no other reason than I'd really like to see Derek Fisher go out with a sixth ring after being traded by the Lakers organization.
CBS: It would be nice for "D-Fish." He's done some things playing wise that weren't all that savory but I think it would be a great way to finish out this year and slowly but surely his career because, unfortunately, there's such a short life span in sports. I just thought it was really wrong the way that L.A. dismissed him mid-season – not cool! So I'd love to see him get it.
What I really love though is Kevin Durant's demeanor. He's just so calm – win or lose – he's a gentleman and keeps a certain class about him. He plays good, clean basketball and extremely well. And overall I think the OKC team has a lot of great energy – a great youthful team that I feel will go on to have a great life. I've grown to have some respect for the Miami guys. Lebron James is an amazing basketball player. That last game he made some incredible moves. But I'm rooting for OKC. I think they're fresh!
ASG: I'm totally feelin' that. Now I have to ask about Senor Santana. How does it make you feel when you listen to Carlos play with Tony Williams not only on his jazz album The Swing of Delight (Columba – 1980) but that amazing version of "Spanish Castle Magic" with Stanley Clarke and Corey Glover that rocks so hard (from the all-star 2004 compilation CD Power of Soul: A Tribute to Jimi Hendrix)?
CBS: I know, right?! I have to get a copy of that Hendrix song. I've only heard it once but it's amazing. What can I say? Hendrix is Hendrix – there's no getting around that. He's one of my favorites. But I love the version they did. Tony just brings all of his innovation, great clarity and feel, sound and tone. Carlos has an amazing sound and tone as well – it's his signature. That creates an identity. He's a great player. I've seen him play different kinds of things with various groups. I can say firsthand that he really loves a lot of different music. There's a lot of stuff in his vocabulary. The sound that he has is supreme and very identifiable. I'm very proud of him…not that I had anything to do with it (laughs) but he's amazing.

ASG: Do you two play music together at home. Is drums and guitar a special way that you communicate with each other privately?
CBS: You know, we do some playing together here and there, but we do more listening together than anything else. We listen to music and then talk about what we heard. We share the stuff that we love.

ASG: What is your favorite Santana LP?
CBS: In terms of the recent stuff "Smooth" was a great record. I like the new stuff he just did titled Shape Shifter (released May 14th on the Starfaith imprint). And I love Oneness (Silver Dreams Golden Reality) [from 1979 on Columbia] – a great record. That's one of my favorites from earlier times.
ASG: That's one of the solo albums he did under the name Devadip Carlos Santana. I love that stuff.

CBS: I also love the record he did with (Mahavishnu) John McLaughlin, Love, Devotion and Surrender (Columba – 1972).
ASG: Aww yeah with my favorite piece "The Life Divine." Have you heard the other Tony Williams tribute band with Allan Holdsworth on guitar, Alan Pasqua on keyboards, Chad Wackerman on drums and Jimmy Haslip on bass?

CBS: You know I haven't heard them. It's funny because Jack called me a couple of times when I was still living in New York telling me to try to see them but I always was either out of town or had a gig of my own that night. They're all good players, though.
ASG: Their performances are very good, too. It's completely different from what Spectrum Road does and I respect them both. We'll revisit that question at another time. How did Spectrum Road's set go over at Bonaroo last weekend?
CBS: We went on at midnight…right after Alice Cooper. The Bonaroo people seemed to really be into our set which was very nice because it was so different from the rest of what they were hearing there. They were hearing a lot of straight rock so the kind of interacting we brought wasn't the kind of direction they were used to hearing. Fortunately they were into it.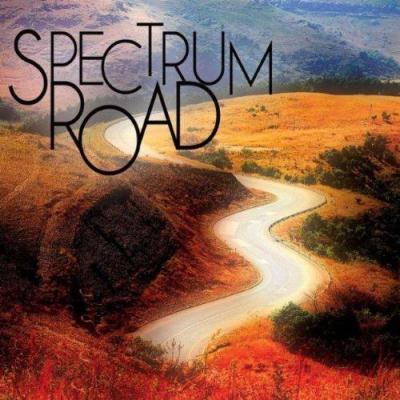 ASG: What would you like the Playboy Jazz Festival audience to come away with as far as what Spectrum Road has to offer and what you'd like for them to glean of Tony's essence as well?
CBS: Beautiful question. In terms of what we have to offer I'm just hoping that they feel touched in their hearts and moved to create, say or do something that's positive and beautiful to someone or to themselves. All of the energy that we emit at anytime is felt by the universe…whether we are sitting in our houses alone or whether we're in a crowd of a million. Everything that we do – from my concept and my belief – is felt. So if we can touch people in a way that they want to do something, say something or feel something that's uplifting and loving, then you've accomplished a great deal. We want them to love the music and we want the music to feel great to them
In terms of Tony Williams and Lifetime, I feel that I can speak for all of the band members by saying we want the audience to come away with the same love and respect for Tony's contributions to the musical work that we have., We want them to come away with a good feeling about the music that he made, go buy some records and check out what he was doing. We hope they really look at the lineage – how creative this music called jazz-rock is – look at the things that came after and see the history behind all of this.
It's interesting because so many people are influenced by Tony and don't even know it. When I started playing with Lenny and I got on the rock scene, I was exposed to many more rock musicians and drummers. I'd see guys playing 4/4 on the sock cymbal (a.k.a. hi-hat cymbals). I'd say "That's totally Tony." They'd say, "Well, I never listened to Tony." I'd say, "Well, you're still influenced by him because THAT's a Tony Williams innovation. You might not realize it but it is."
A. Scott Galloway
Music Editor
The Urban Music Scene