Najee: The 30th Anniversary Interview by A. Scott Galloway






by

Najee Celebrates 30th Anniversary With 14th Solo CD, Poetry In Motion
by A. Scott Galloway
August 27, 2017
When sax, flute and all-around reeds master Najee arrived in 1986, he brought an effervescent blend of R&B and Contemporary Jazz to the fore – an accessible sound with some studied acumen behind it that has consistently evolved over 14 albums as a leader. His latest offering, Poetry in Motion, finds him capsulizing everything that has made him beloved into one highly satisfying CD from top to bottom. It opens with the uplifting "Stratosphere" which sounds to this writer like taking Jill Scott's "Golden" to its next logical level. Next is the sexy "Is it the Way" featuring the highly prolific neo soul singer/songwriter Eric Roberson (who also shines on the best song of Boney James' new Honestly CD, "If I Can't Hold You"). That's followed by a breezy up-tempo club whirl in collaboration with Bluey and Incognito titled "Let's Take It Back," a sweet romantic feature for vocalist Maysa titled "Don't Make Me Wait," a powerful hookup with pianist Bobby Lyle on the title track, and closes with the edgier one-two punches of "Running Away" (f/ guitarist Blake Aaron, produced by Randy Bowland) and Duology" (a techno experiment produced by Roderick "RB3" Bonner.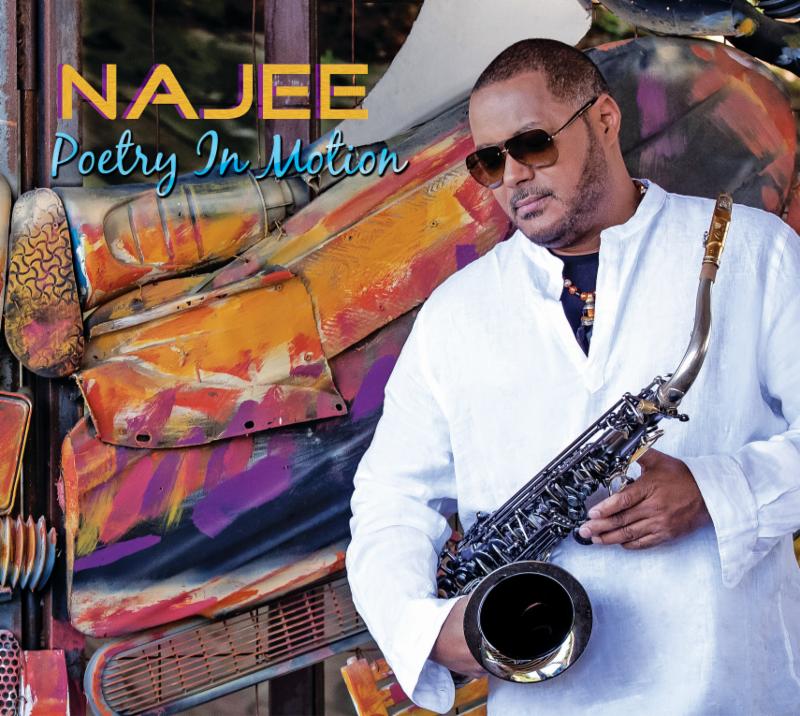 "I called on my friends and they all showed up for me," Najee succinctly and gratefully states.
New York-native Jerome Najee Rasheed gives you the best of all of his flavors here – though he swears that was not his intention. "I'm schizophrenic when it comes to music," he shares. "Lately, I've been listening to Steely Dan. In terms of creative rock combing jazz elements, there's nobody like them. As a musician, I have a lot to say. The real challenge for me – really just my quirky personality – is for it to make sense to people. Having Barry Eastmond (producer/co-composer of 7 of the 10 songs) was a real plus. He's had bona fide hits. I met him through my brother Fareed (a guitarist who worked with Kashif and Change in the late `70s early `80s). Through his affiliations I eventually met Barry Eastmond and Wayne Brathwaite (who produced Phyllis Hyman, Billy Ocean and Freddie Jackson). Barry would call me in to play sax solos especially for Freddie. When I recorded my second album, Day by Day, he did a song called 'Sweet Sensations.'
"Fast forward, on this record I hadn't talked to him in 28 years. I called him and said we gotta do something. He said, "I'm glad you called because when we first started working together, I didn't have a clue as to what I was doing!" I said, "Man, you had #1 Grammy-nominated songs (Jackson's 'You Are My Lady') – what are you talking about? I was the novice!" Now our association has come together. We've made a mature statement on this record."
In the exclusive 30th anniversary honoring interview that follows, T.U.M.S. Music Editor A. Scott Galloway coaxes Najee through his illustrious career highlights, garnering rich anecdotes about his early years with Chaka Khan and Ray, Goodman & Brown, his 3-year stint with Prince, the long gone jazz club circuit of the `80s, world travels, his fallen saxophone brothers Grover Washington, Jr., George Howard and Art Porter, and the very special "We'll Be Missing You." co-composed in honor of Al Jarreau by he and longtime friend Will Downing (who also gave the album its title, Poetry in Motion).
Scott Galloway: Your dedication to the one of a kind Al Jarreau, "We'll Be Missing You," is very moving with lyrics written and sung by Will Downing. You also dedicate the song to Prince but I don't hear that in the song. Where is Prince element in all this?
Najee: The way it started is while I was in the U.K., Al and I had made a commitment to do a song together. We started the process but he got sick (soon after dying). Will came in and rewrote the lyrics to accommodate it as a tribute to Al. But when it was time for me to do my credits, I decided to include Prince in my dedication. The three years I toured with him was an amazing experience – history. I felt guilty not including him.
Scott: It seems to me you would just write a separate piece for Prince…likely be a suite. I love Al Jarreau – been listening to him since Look to the Rainbow, went backward and caught myself up, and was with him until he passed. But Prince was something else with everything he brought to music. There was nothing he couldn't do. How did you meet Prince? Outside looking in, it's a little strange that he would hire you, even though he has had Maceo Parker, Candy Dulfer and Eric Leeds in his band on sax.
Najee: In the mid-`90s. I did a tour opening for Chaka Khan. Someone told me he was there but I never saw him. Years later I was in New York and I got word he invited me to a Madison Square Garden show. Maxwell and I were sitting together. After the show, I got word he wanted me to come to the after party and perform with him. So, I got my flute and came. Prince always taped everything he did. My friend (rapper) Doug E. Fresh was there. A few weeks later I got a call from Doug E. saying, "Yo-Yo-Yo. 'Da Artist' is lookin' for you!" Then I get a call from this guy who says, "Najee, The Artist would like to speak with you. He's going to call you back in 5 minutes." (click) 5 minutes later, the same guy calls back and says, "Najee. I have The Artist on the line." Prince gets on and says, "Hey man, what's up? When are U and I getting together?" I said "I don't know, you tell me?" I was living in L.A. Prince said, "Why don't U come out 2 Minneapolis?" I said, "When?" He said, "Right now." I said, "I can't come out right now." He said "Well, when then?" I said, "Maybe in about a week." "Alright, I'll call you back." (click) Just like that.
Scott: I've read he never even had a phone! Whoever called you was who owned that phone…such a mysterious cat.
Najee: It was a weird introduction. Then I get a call from a travel agent. He flies me and my brother out first class, has a limo pick us up and take us to Paisley Park. First, we went to a club and it was wonderful. We talked about music and many-many things. We left the club at 2 in the morning and do this jam session. This went on for like 2 weeks – jam sessions every night back to back. And I had ALL of my horns and flutes. Finally, he asked me to play on The Rainbow Children.
The crazy thing is he already knew my music – very familiar with everything. He's a quiet researcher. So, we did the album and one day he asked me to go on his "Hit & Run Tour" as part of the NPG (New Power Generation). I told him I was honored. Then he says, "But I don't know what to pay you." I replied, "Well, to be honest, I don't know what to charge you!" So, he does the ultimate pimp thing. He says, "What do you need? You need a house?" I said, "Nah, man, I don't need a house!" (cracks up) That's how it all started in 2000. It was supposed to be a 2-week tour. I didn't officially leave the band until 2003. I have one feature on the live album, One Night Alone, on his song "1+1+1=3." I was in and out, still recording my music and gigging. We did Jay Leno's "The Tonight Show" – 1 song apiece for 2 nights.
He was like the United Nations of artists – one of the smartest and most generous people I ever met. I never got to work with Michael Jackson – I heard stories – but for me Prince was the guy that did it all. I never saw the brother sleep, doze off or nothing…ever!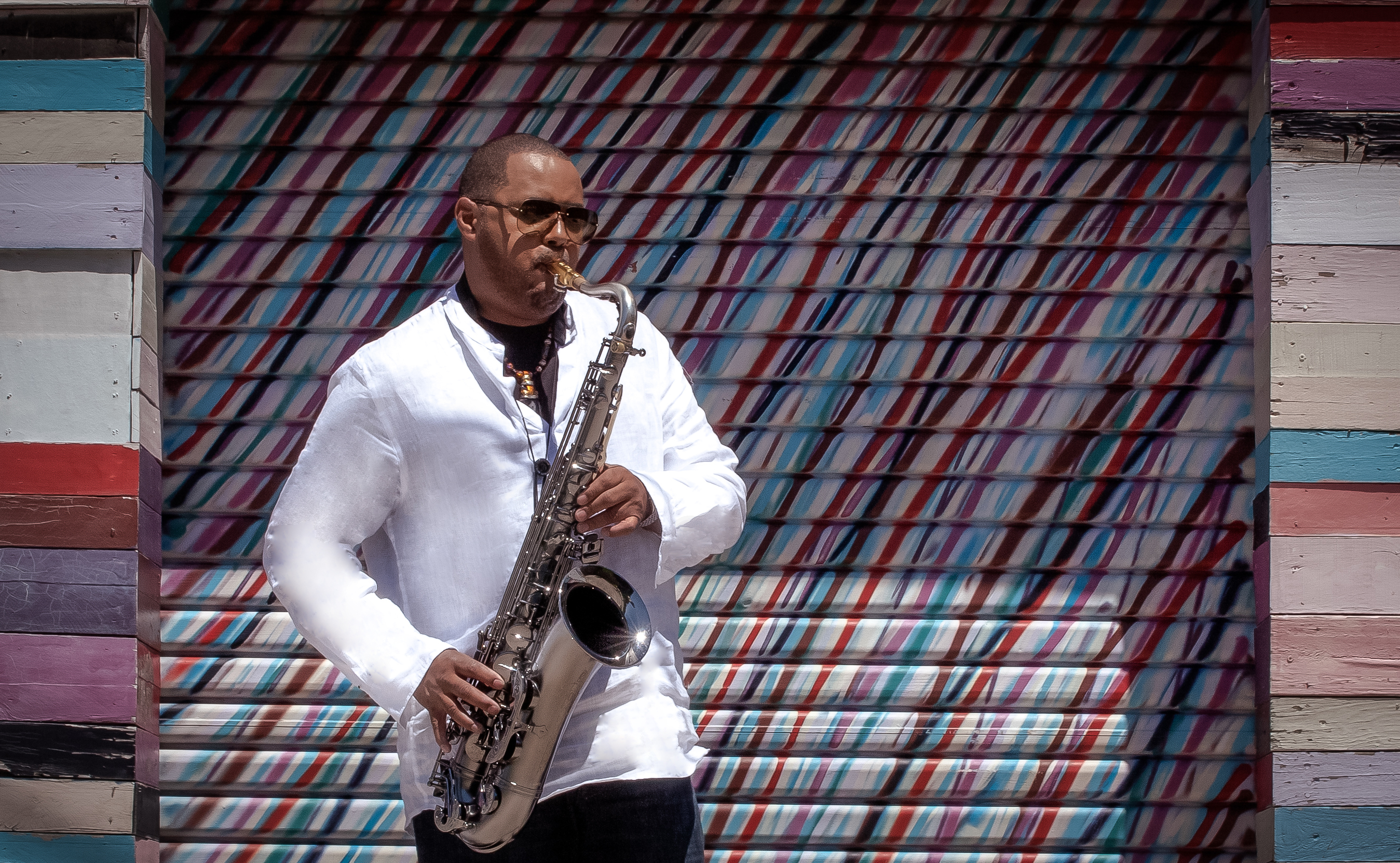 Scott: Back at the beginning when Najee's Theme came out in 1986, your version of Anita Baker's "Sweet Love" really captivated people. You chose that and Earth Wind & Fire's "Can't Hide Love" on that debut LP. Why?
Najee: In the case of "Can't Hide Love," the way I got signed is I was doing these demos with an arranger out of New York named Charlie Elgar. We brought in all these expensive musicians like (drummer) Omar Hakim. The head of Hush Productions invited me to bring him some demos. "Can't Hide Love" was one of the songs on my demo. Two weeks later, he called and said he had a deal for me (at EMI/America Records).
With "Sweet Love," we were at the end of recording and needed another song to fill out the album. I was working with a guy named Rahni Song who just started playing "Sweet Love" in the studio. We laid it down right there on the spot. I had this out of tune soprano sax that I paid $800 for. I don't know if you know this but I hated the sound of soprano. As fate would have it in the mid-`80s with George Howard, Kenny G and I, soprano became the natural voice for the music we were playing. "Sweet Love," "Betcha Don't Know" and "Najee's Theme" were Rahni and I just figuring out what we were going to throw onto the record. These ended up being the biggest hits – the ones we didn't send much money at all on!
Scott: I understand before you even got your deal you went on the road with Chaka Khan. How did you manage that?
Najee: In 1983, my brother Fareed and I got the opportunity to audition for Chaka in New York City and she hired us right after "Ain't Nobody" came out (her hit reunited with Rufus). Also in the band at that time was background singer Meli'sa Morgan, which is how our association. Interestingly enough, Tony Maiden (Rufus guitarist) was in the band with us. When I joined there were two other horn players: Matt Gillian (from David Bowie fame) and Bob Franceschini who played tenor. I as playing alto. Here we were these kids trying to figure out what cats like Ernie Watts, David Sanborn, and Michael Brecker were doing on all of Chaka's legendary records.
Scott: As a contemporary jazz artist, you enjoyed the tail end of there still being a circuit of clubs to play across the country – from the jazz holes to places that booked all genres of music. What are your memories of that circuit that young artists don't have today in which to learn and build?
Najee: The way I was able to sell so many records early on was being on the Tasty Love Tour with Freddie Jackson. I didn't even have my own band. Ray Goodman & Brown were also on that tour and allowed me to play with their band for 15 minutes. It served me well even though people were still walking in and taking their seats while I was on. It afforded me the opportunity to play in big arenas, and to visit local radio stations and record stores. That's how I got a gold record on my very first album. In `88, I went out on my first solo tour. I had Alex Bugnon on keyboards and we sold out 8 shows at Concerts By The Sea in Redondo Beach, California. Then we'd do things like open for the band Hiroshima, Bob James and others. It was a great time.
Scott: You are truly a survivor. We lost several of your peers over the years – George Howard, Art Porter, and the great Grover Washington, Jr. What are your thoughts on your fallen saxophone brothers?
Najee: I knew them all…particularly Grover which started in college. My brother had written these songs which is where my relationship with soprano saxophone began. I didn't like the sound of it. Other than John Coltrane and Sonny Fortune, I didn't really care for the sound of that instrument. I was a tenor sax and flute guy primarily…but it grew on me. My brother wrote these songs, I bought a soprano and I played these melodies for him. We drove to Grover's house and showed up at his door unannounced. His wife Christine opened the door and we told her we were college students who'd written some songs for Grover. He invited us into his home and allowed us to play him all of our songs. He never covered them but that day he pulled out his horn, played along with them – the whole bit. He was very kind, Years later when my career as a solo artist started, one time I was in Philadelphia, he came by my show and performed with me.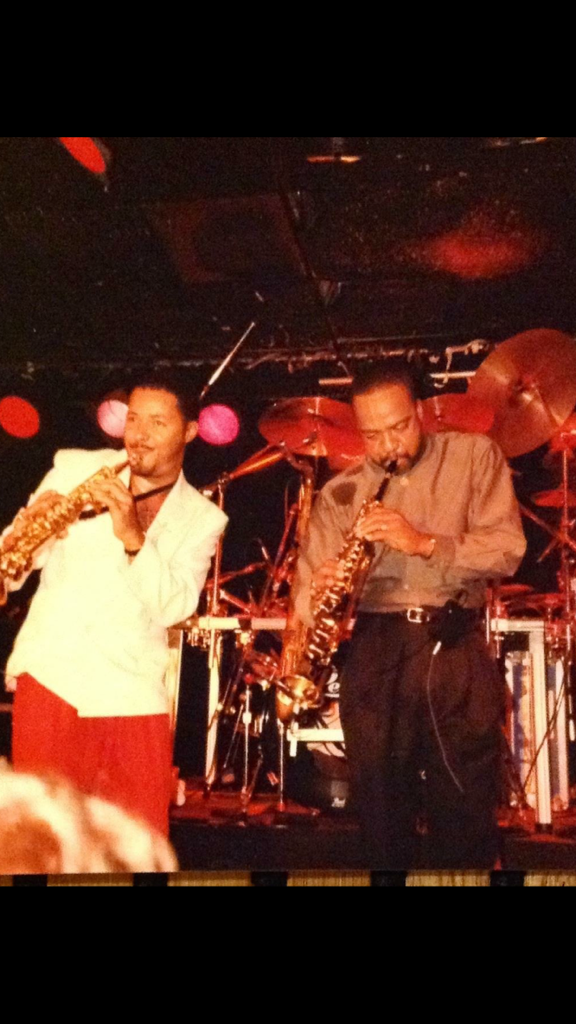 Najee performing with Grover Washington Jr. in the late `80s.
Gerald Albright and I just played a tribute show to Grover with his band in Philly a few weeks ago. It was an amazing experience.
Scott: What's your favorite Grover song to play?
Najee: I'd have to say "Mr. Magic." Growing up, it's the one I had to play at all the parties and corporate gigs. It was such a musical statement.
Scott: What about George who was your peer and Art who came behind you?
Najee: I always felt George had his own space. He didn't wow you with technique but whenever you heard him he always made you want to dance. He had a rhythmic approach that was unique. One time I was on a festival and he was in the audience. Everybody knew he was there so I asked him to come up. He didn't have his horn with him so he picked up my soprano and started playing on the mouthpiece, man. Of course, I didn't play it after him! (laughs) That was the end of my soprano playing for the night!! But between he and I and the audience, it was a lot of fun.
I met Art in Chicago doing promo stuff. My rep told me I had to hear this guy, took me to this club and there was Art with his band – before he got signed.  This cat was killin' it! I went up and played with him and we became friends.
Scott: What was the circumstance behind you meeting and playing for the honorable Nelson Mandela?
Najee: I met Nelson Mandela in South Africa after he'd separated from Winnie and got remarried to the daughter of the President of Zimbabwe. He did a concert series called "A Gift to The Nation" that took place in Durban and Johannesburg. I went as part of the delegation with Stevie Wonder and Chaka Khan. We were invited to the presidential home and had lunch with him – amazing. It was not too long after Apartheid had ended so its residue was still there. I remember us all sitting in the Hilton Hotel talking to a guy in 'JoBurg' who told me, "Man, there was a time when I would not have been able to sit here with you in this hotel."
Scott: You've traveled to so many places. Where haven't you been?
Najee: I haven't been to Russia. I've been to Guantanamo Bay but not Cuba proper – as in Havana. Never been to deepest recesses of Eastern Europe though I've been to many places in Africa…just not Mali, The Congo or Egypt.
Scott: What's at the top of your list of places you'd like to go?
Najee: I would love to visit Morocco and Liberia. I would also love to go to Egypt…more for educational reasons than to perform.
A. Scott Galloway
Music Editor
The Urban Music Scene
August 27, 201