Stokley Talks Departure From Mint Condition, Prince and Philando Castile






by

Introducing Stokley The Man…30 Years After The Band
Interview by A. Scott Galloway
June 25, 2017
In an industry overrun by egos and self-service, Stokley Williams stood as a stellar team player fronting the Minneapolis-based band Mint Condition for three tumultuous decades that swung from most successful signing of Jimmy Jam & Terry Lewis' short-lived Perspective Records company to grassroots independent artists – staunchly representing as one of the few (near only) Black bands on the mainstream playing field. On Friday, June 23, Stokley (first name only) – following his single "Level" – released his long awaited first solo project with the title Introducing Stokley (BluRaffe Entertainment Group/Concord Music Group) – for though we know a lot about him from his band works and collaborations to date, he peels away several revealing layers in the new music at hand.
Introducing Stokley is a smartly produced solo debut, contemporary and on-point enough to be effortlessly radio-friendly and mainstream yet does not pander or dumb down to the nadir that so much contemporary so-called R&B music that fills the airwaves is about. The music is sophisticated, the lead and layered background singing is out of this world and, most importantly, the lyrics are richly mature in viewpoint and compelling while also projecting vibrancy, fun and sensuality. The 15-song offering moves from the celestial Rihanna-influenced galactic flight of "Way Up" featuring rapper Wale (pronounced wah-lay), the stormy weather techno rock metaphors of "Forecast" and the breezily percussive dance jam "Cross the Line" (floating on the bass line of Michael Jackson's "I Can't Help It") to the dreamy old school float "U & I" (a duet with Estelle), the erudite mack of "Art in Motion" and the heavily Prince-influenced "Organic." Prince, like Jam & Lewis, was a hands-on inspiration of Stokley's and the singer has recently been paying fiery homage to the fallen legend as a special guest vocalist of The Revolution, Prince's one-time band that is currently on the road conjuring catharsis for themselves and Prince's most ardent fans on tour.
Sipping on tangerine flavored La Croix "naturally essenced" sparkling water in the 2nd floor Mid-Wilshire office of his publicity firm, newly vegan Stokley was soft spoken (conserving his voice for The Revolution's L.A. concert that night) but exceedingly thoughtful in his search for just the right words in discussing his departure from his band of brothers Mint Condition, what he learned from Prince, highlights of his debut album, his wife and children, and the bitter pill of Black men as targets in America, specifically the shooting of Philando Castile in St. Paul.
A. Scott Galloway: I'd like to start by stressing my respect for what you and Mint Condition did for black music when you arrived and to you specifically as a lead singer for hanging in there with them for as long as you did before venturing out solo. I know you had people in your ear long ago sweating you to leave. Lionel Richie, Chaka Khan even Justin Timberlake bounced from their bands way earlier.
Stokley Williams: Thank you. I have always believed that my role in Mint Condition was to insure that we represented something (a Black band) that was needed. We were on our own island…providing a balance for everything else out there: classic Soul and R&B but eclectic. When we worked together, it was always fresh. Being the voice, I – for lack of a better word – was the centralizer…the glue. We wanted to prove that we could come together, stick together and build something very powerful that could resonate with people for years.
Scott: It's been 30 + years since the mid-`80s. You were together years before the first 1991 CD.
Stokley: Yeah… I always say doing anything in life for over 20 years is remarkable in itself. When you have the chance explore other areas of your talent, you should. Life is meant to be experienced. I'm still relatively young and people seem to have a little bit of interest in what I'm doing. So as long as that's there, I'm going to exhaust every possibility to explore my talents.
Scott: At anytime during those 30 years did you want to go solo earlier than now?
Stokley: I thought about it earlier but this was the time when it was emphatic. Most of us in the group have reached the point where we want other "life enrichment." We recorded, toured, saw the world, had some amazing experiences and made our mark, along with making a buck and putting our kids through school doing our passion. We've been so blessed.
Everybody measures "success" in different ways. You don't always have to look at that in terms of money. I look at the camaraderie we shared. I can't imagine having those experiences with any other brothers. Mint was a university, giving me my legs to do what I'm doing now…to sound the way I sound musically, and helped me as a man…in my ideology and the way I approach the world.
Scott: Where does that leave Mint Condition? Did the band breakup or is this a hiatus?
Stokley: We're saying hiatus for now. We'll see where everybody lands. There's no set date for us to strike the band back up. I want to do something different: work with different people, do business a different way. If we decide to roll back, we can all compare notes.
Also in this business, you have to give people a chance to miss you. Whatever people want to call it, people will see this break as what they see it. However, if you really love your favorite artists, you bend with the breeze along with them.
Scott: You're off to a strong start with this CD. When most people branch off from a group, they are hell bent on finally doing their thing unfiltered. But you went the opposite direction when you stated in your bio that you wanted to work with other people and not just have it be all about your voice.
Stokley: Well I'm always cutting tracks by myself so I know what I sound like doing it all. I can always do that and there's some of that on the record. I was looking for something to titillate me first. I've built some nice rapports with people like Wale, Estelle, Omi and Robert Glasper. Working with Ivan Barias & Carvin Haggins in Philly, they're like the east coast Jam & Lewis to me…really good human beings that have their fingers on the pulse. I've worked with so many great people over the last 12 years, why not continue that? Everybody collaborates these days. The landscape is filled with that. This is my organic offering. It feels good and I'm very proud of it.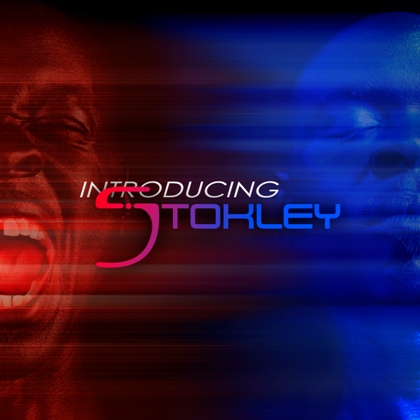 Scott: How do you feel your single, "Level" is being accepted as you've presented it to radio and the press?
Stokley: It's been consistent. What I mean by that is we had another song, "Organic," slated to be the first single. It's one I was digging and we did get some nice feedback on it. But every time we started playing "Level," they couldn't stop playing it. One guy said he's listened to it 7 times back to back. I was like, "You know what, I guess it's obvious." It's a sunshiny, feel-good song, not only sonically but the feeling you get from it. It's musical, really simple lyrically, but not contrived. It came from a real place and it's making people happy. That's all I'm trying to do. To be a refuge for people no matter what they are going through.

"Level"
Scott: This CD is mostly love and relationships oriented. You've been married for some time now, right?
Stokley: We've been together 12 years. Time flies. It happened at the right time for me. She's so wonderful and I'm so blessed.
Scott: How did you meet Syl?
Stokley: We met here in L.A. She's from Altadena but grew up in D.C. so she grew up on both coasts. She was doing hair and makeup but is also a chef whose concentration is pastries. Mint was doing "Motown Live" here in 1999; she was doing hair and makeup. Some friends of hers were fans of the group and wanted autographs. She slipped me her number. I took the number (laughs) but I was doing something else at the time. Fast forward a few years I was cleaning out one of my drawers and saw her name and number in this pink sparkly writing. By this time during the "Live at The 9:30 Club" era, Mint did a show at the Lincoln Theater in D.C. Jeff (Allen – saxophonist/keyboardist of Mint Condition) told me he had a friend that wanted to thank me for an autograph or something, so she came down. I was looking at her like, "I've met you before…back in L.A…1999 at "Motown Live." She wasn't going to say anything about it so she was surprised I remembered. I said, "You wrote your number down in a pink sparkly pen." She just looked at me. Don't ask me how I remembered. It was just one of those things. We connected in `04 and have been together ever since.
Scott: When you wrote these love songs, were you always thinking about her?
Stokley: I think about her and past stuff. Certain songs I started in the past but didn't finish. Or I'll just take bits and pieces of things from parts of my life or conversations I've had with someone else about their life.
For instance, "Organic" is about the torture women go through on a daily basis looking at their smart phones and magazines that say "wear this-do this-be this" to be desirable. I say, "Who you are is enough…in your organic natural way." Don't think you have to be artificially flavored. Be a "God-modified original."
"Wheels Up" is about how kids sometimes dim their light to try to fit in or not be bullied. All kids have a light but in order to fit in with certain crowds and cliques, they dim their light and hide their natural talents. I'm like, "No-No-No. Shine your light. Pull up…wheels up…like an airplane…head to the sky. I was on a plane one day thinking about my own kids and the idea hit me. I have a son and a daughter, ages 15 and 10.
Scott: You are playing steel pans all over this CD and I am loving that! Do you have some West Indian in your DNA?
Stokley: I don't but I do have a lot of West Indian brothers. A man I call my second dad, Cliff Alexis Sr., taught me the steel pans. He just retired from Northern Illinois University. Me and Odell (Homer Odell, guitarist of Mint Condition) both got started on steel drums under him in high school. I grew up playing percussion and loved anything in that musical family: xylophone, marimba, djembe, steel pans, congas and bongos, drum set. There was a summer program for talented youth in St. Paul, Minnesota. I was able to enter a year early. Cliff was very instrumental to so many people…a mentor not just about music but life – molding the minds of young black men and women. I got the steel pans from him – and I'm still learning that instrument – but I got some other gems from him as well for which I am forever grateful.
Scott: "Victoria" sounds like some old Caribbean folk tune that you contemporized and got silly on. It also sounds like you're clowning John Legend's singing voice in the first verses. Is there some beef enquiring minds need to know about??
Stokley: (cracks up) Is that what it sounds like to you?! No-No, man, I love John Legend. That guy is totally amazing. I was more so channeling the West Indian thing like when I listen to Peter Tosh or Bob Marley. The track felt like that and I just sang it like that. Sam Dew, a masterful cat with his pen game that I met through Wale, helped me write that. He has his own thing coming soon. This cat can literally write a song in 3 minutes! We also wrote "Forecast" together on the project and a lot of other things that will come out later.
When Jam & Lewis heard "Victoria," they thought, "O.K., this is, like, your Sting thing…" (laughter) I wanted to do something fun. Music sometimes gets way too serious. That's what I loved about (the band) Cameo. Their sensibility was musicians that were serious about their fun! It was magical. "Victoria" reminds me of a lot of different things. It's got the Bata drums which remind me of the ocean breeze on an island, so I was thinking about the Caribbean and Jamaica mixed with some Cuba and Brazil. But at the same time, the Bata drums also remind me of Clydesdale horses clopping along in triplet rhythm. So that song conjures many images for me. Music should do that…take you on a journey through 'sonic art.'
Scott: Which brings us to "Art In Motion" featuring Grammy-winning keyboardist Robert Glasper. I'm feeling the lyrical analogies to Beethoven, Misty Copeland, Maya Angelou, Van Gogh and Quincy Jones. The track reminds me of my favorite Glasper CD, Double Booked, Blue Note – 2009), particularly its closing song "Open Mind" for which the sonics on this one closely match
Stokley: When I heard Ivan Barias' basic track, in my head I heard a lot of what you hear now on the finished track…all this orchestration. I call him and Carvin Haggins "associates" on the project. Their work is just amazing. We started talking about the many disciplines of art – music, dance, painting, poetry – and putting them all together in one song.
I had the title 'Art in Motion,' from years back. There was a girl I was dating and I remember her coming to visit me at some hotel wearing this amazing sun dress. When I saw her, my reaction was exactly what I say at the beginning of the song: "OHHHH, BOY!" The sun dress was so brilliant in color; it was like if you were to eat some magic mushrooms then look….MAN! Now, I didn't eat any mushrooms that day (laughs), but when she moved in that dress, I told her, 'You look like art in motion, baby.' She said, 'You just rocked my world.' So I wrote it down and never forgot it, pulled it out when I heard the track and we wrote the first half of the song from that.
The first half of the song is electronic with the technology and tones. We made the second movement more organic (acoustic) with me switching to drums and the use of bass. That was artful to me as well.
Scott: In addition to promoting your CD today, tonight you are singing as a special guest with Wendy, Lisa, Dr. Fink, Bobby Z and Brown Mark – Prince's classic band The Revolution – at The Wiltern. As one who has been privileged to be in the inner circle of that whole Minneapolis musical vibration, what was your biggest take away from absorbing whatever you were able to absorb from Prince?
Stokley: (thoughtful pause) He wanted to be that mentor to people…to be that bridge between where they are and where they could be. He would push you…to the edge. He had so much vision. And we all know how prolific he was. He was really good at motivating.
His guitar tech said it best: If Prince asked you, "Where do you want to go" and you said, "Here," he'd say, "Yeah, that could be cool…but why not go over there?" You'd say, "Well, I never really thought about that…it seems pretty far…" He'd say, "Yeah, but you can do it."
Whenever I would have these conversations with him, I sensed that. He was a champion of me doing this project, Introducing Stokley.
Scott: Did he get to hear any of it?
Stokley: No… He died just a little shy of me going over to play it for him when everything happened… But I feel good that he expressed to me that this was something I had to do. That it was part of my natural maturation as an artist. He saw this for me. He was a beacon of light for a lot of artists on every level be it as fashionista, a professor of sorts, writer, arranger, incredible singer, dancer, actor – whatever. He just went for it.
Scott: Listening to certain Prince records (like "The Beautiful Ones" or "Condition of the Heart"), you sensed that he sometimes went in contrary directions "just because." Like, "Why did he go to that chord there? If he had just gone here it would have been so sweet. Why'd he stick that weird synth patch there?!"
Stokley: Yeah, right? I get it…but as an artist, we see audiences as liking what they like because that's what they're used to getting…until we change it. It's like you don't know until you do that. The standard can change once an artist changes it. It only sounds odd until you hear it and it tilts your head like, 'Oh, wow." He wasn't afraid to go there…right on the edge of failure. He did a lot of great stuff and a lot of stuff that wasn't so great. But he had to take that chance. We would not have known him as the great artist he is had he not had that sensibility.
Scott: So you're performing mostly songs from the Prince And The Revolution years (Purple Rain, Around the World in a Day, Parade) and a couple from before when Lisa was in the band (Dirty Mind, Controversy, 1999). What's your favorite Prince song of what you are performing now…and one that you'd love to perform that's not in the set list…yet!?
Stokley: I like performing "Uptown." It's just so raw. He was still trying to figure himself out. That's the stuff right there…amazing…'simple magic.' Of course, his catalog is so vast it's literally impossible to just pick one. Then there are the songs of his I would never try to sing. Like, The Revolution is doing "Mountains" but I could never sing that. I love the feeling of it but that's for Wendy & Lisa to sing. I'd love to do "Tambourine"…I was just listening to it the other day…the vocals and the drums…the harmonies and the syncopation. It's quirky and fun…nuts!

"Uptown"- Stokley w/ The Revolution – Live in San Diego
Wendy and I were talking the other day about steel pans. She told me, 'I bet you didn't know that I am the one who played the steel pans on "New Position." I was like, "Wendy! G'on there, girl!!"
Scott: You have some wonderful collaborations on the album with Estelle, Wale and Omi. And I love Terry Ellis (of En Vogue) playing a character on "Victoria." A friend of mine wanted to know what your ultimate collaboration would be – a major artist with whom you feel you could rock something special?
Stokley: In Hip Hop it would be Kendrick Lamar because of the way his mind works. He's not afraid to step out on that ledge where other MCs won't. For women singers in R&B/Soul, I love Erykah (Badu). I was trying to get her on this record someway but we'll figure it out. I love her brain. I haven't been tuned into the rock thing for the last six months so I'd have to sit down for a few weeks to figure out someone current that has compatible sensibilities.
Scott: I have to close on something a little tough: the shooting of Philando Castile in Minneapolis and the cop Jeronimo Yanez walking free. Particularly between the time of Trayvon Martin and Sandra Bland up to Philando, it's been a harrowing time to be Black in America. We know this has been happening for centuries but the advent of social media is really making these realities explicit and graphic to our eyes, minds and psyches. What are your thoughts about that, especially with Castile's death happening in St. Paul, Minnesota where you are from?
Stokley: It's a war on "us," man – clear and simple. And it's been that way a long time. It's systemic. We know it! And as a people we are trying to figure out what is the right thing to do. Do we march? If so, how long are we supposed to keep doing that? Because I feel like this is a both/and situation, one of the things I feel we need to do is find a way to organize. That's what Dr. King (Rev. Martin Luther King, Jr.) did in his era that we're failing to do right now. The other thing we need to do is find a way to disrupt the money. If we don't, it's just going to be business as usual. Money and power are the only things these people care about! We also have to disrupt that penal system of our people being railroaded into jails.
Look, I know who I am in all this as a member of the "entertainment industry," part of which is exploited to distract people from what's really going on. What I can do is use my platform to uplift as a sonic healer. We need something to give our people relief. I want to be a distraction but in a good way.
That's where my song offering "We/Me" comes in. I'm never preaching down to anybody. It's just me contemplating the landscape the way it is and putting it out there…because we have to keep talking about it – speaking to the division that needs to end. We have to figure out ways to dismantle everything that has disenfranchised people of color.
I was almost all the way done with the album before all this stuff started happening. I wanted to scrap the whole project and go in another direction. But somebody told me, "No-No. We need this…for healing…for the back and forth dialogue…and for the uplift.
My Pops was always telling me, "Look, son, race is not personal." If that was the case, it would just be me. It wouldn't be me and you and him and her and people across the country that look like you. It's bigger than you. They try to make us go for that bait and switch every time. The transparency is so real; it's all adding up to me now as an adult. The older I get and the more I see, sometimes I wish I didn't know… And it's even harder to wake up the people that don't/can't see it. It's a big conversation…almost overwhelming. But we have to stay ready for it because it's here, it ain't goin' anywhere and we ain't goin' anywhere. So we've got to stand up and do the best we can.
Like my Pops always said: "Drip-Drip-Drip makes a hole in the rock."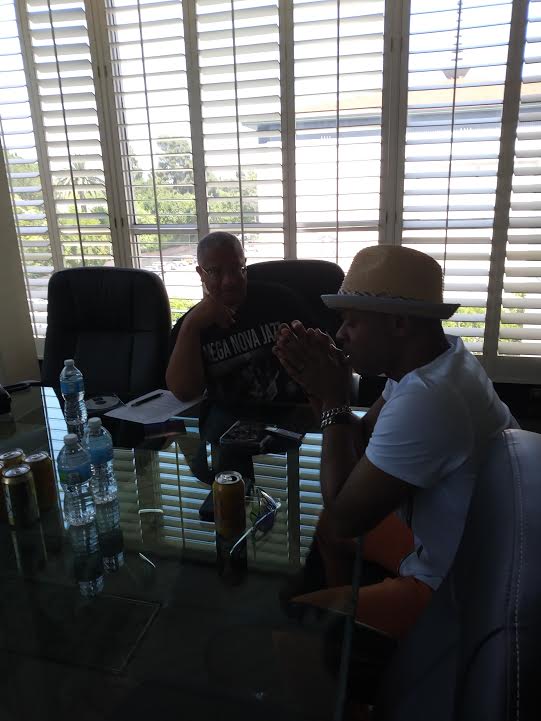 Stokley being interviewed by A. Scott Galloway in Los Angeles
A. Scott Galloway
Music Editor
The Urban Music Scene
June 25, 2017
MORE Interviews on T.U.M.S.!