Eddie Palmieri – "Flying High at 75"






by

Eddie Palmieri – "Flying High at 75"
Interview by A. Scott Galloway
Photos: www.EP75.com
With over 55 years as a composer and bandleader, 200 compositions and 30 albums, Eddie Palmieri joins the ranks of musical legends to receive The National Endowment for The Arts (NEA) coveted "Jazz Masters" honor – the nation's highest honor in jazz reserved for musicians who have made major contributions to the art form…an astounding list of legends that includes Count Basie, George Benson, Art Blakey, Miles Davis, Ella Fitzgerald and Dizzy Gillespie – 128 in total to date. The honor comes with a one-time award of $25,000. The NEA will again partner with Jazz at Lincoln Center to produce an awards ceremony and concert in honor of the 2013 NEA Jazz Masters, webcast live on Monday, January 14, 2013 on arts.gov and jalc.org/neajazzmasters. The ceremony will also be simulcast on SiriusXM Satellite Radio.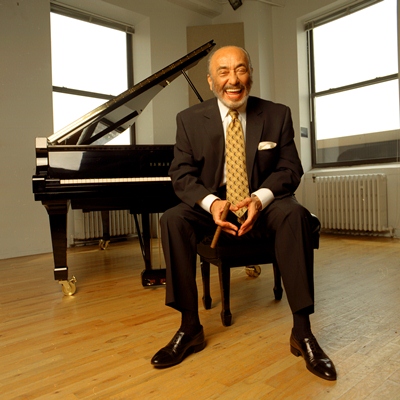 Heralded for his charismatic power and bold innovative drive, Eddie Palmieri was born in Spanish Harlem in 1936. For Latin New Yorkers of Eddie's generation, music was a vehicle out of El Barrio. At age 11, he auditioned at Weill Recital Hall (Carnegie Hall) and joined his uncle's orchestra at age 13, where he played timbales. Mr. Palmieri has since won nine Grammy Awards and is recognized worldwide as a true powerhouse of brilliance known for his astute arranging skills and historic compositions.
In 1971, Palmieri was credited by historians with one of the first genuine fusions of African American, Afro-Caribbean and American musical traditions on his ground-breaking album, Harlem River Drive. In 1974, he won the first Grammy ever awarded to a Latin musician for his great work Sun of Latin Music. In 1993, Palmieri was appointed to the board of governors of the New York chapter of the National Academy of Recording Arts and Science (NARAS), where he was instrumental in forming the Best Latin Jazz Album category of the Grammys.
Eddie Palmieri is currently on his "EP75: Extended Play" tour, a worldwide celebration of the 75th year of Eddie Palmieri's storied life and the legendary music he's created. Mr. Palmieri is extending his legacy with a full schedule of events, including new music recordings for the first time since 2006. Some of his new compositions can be heard on the soundtrack of the soon-to-be released basketball documentary from director Bobbito Garcia, "Doin' It In The Park: Pick-Up Basketball, NYC." He is also performing a historic concert at the Hollywood Bowl on Wednesday August 15, 2012, that will mark the first time he has performed in North America with Latin music great Ruben Blades.
For the occasion, The Urban Music Scene Music Editor A. Scott Galloway had the honor of interviewing the legend in anticipation of the gala – a conversation punctuated with much history and even more laughter.
ASG: Congratulations on receiving the NEA "Jazz Masters" honor this year along with saxophonist Lou Donaldson, pianist/songwriter Mose Allison and Village Vanguard nightclub owner Lorraine Gordon. You've already been recognized by so many award committees. What does this honor mean to you?
EP: This is quite a unique award for me. My forte' has always been Latin Dance Music which started as Afro Cuban then Afro Caribbean and now Afro World. Now I travel with a Big Band. Because of my jazz harmonic structures for playing, I've been honored as a "Jazz Master." I accept this award as the highest degree of an honor. I want to thank everybody that made it possible for me to receive it. I will always treasure it.
ASG: Was there a specific point in your music making where it went beyond making a living to being on a mission?
EP: I would say the mission is always making a living! (laughs) But my whole life is wrapped around my piano. It's the way I make a living and my mother's dream come true. She put my brother Charlie on the piano when I was 9 years younger than him. He was my main influence growing up. He could really play that piano. I wanted to be his drummer. I did that for two years then I went back to the piano – and never got off! I treat it like my altar. When I get on the bandstand, I am able to bring the happiness to the listening public. At the Hollywood Bowl I know there will be a lot of people listening but I'm SURE we're going to get some dancing in the aisles.
ASG: In 2002, you were feted by Yale University as a Chubb Fellow for building communities through music. This is an honor typically reserved for heads of state. How does a musician accomplish such a thing?
EP: That honor was for our work within the community. My band played prisons in the `70s. We connected with the Blacks. African Americans were the ones that really gave me a stimuli. At the time of the Palladium Ballroom, I was one of the top attractions on Sunday which was all Black. They loved the band! Between that and my Latin roots which have to do with Puerto Rico, Puerto Ricans here (in America) and all the Cubans – I guess I wrap everyone around my music. Whenever I go to South America, they always ask for my composition "Vamanos Pa'l Monte" ("Let's Go to The Mountains"), a song that talks a bit about conditions that exist there. We bring them happiness when we play there followed by dancing. When you're dancing and having a good time, you're not thinking about the economical problems around you. All of that put together made it possible for The Chubb Fellowship to be given to me. I treasure it dearly.
ASG: I understand you are not fond of the term 'salsa' when used as a description for music.
EP: Salsa is a complete misnomer! The music all comes from the mother Rumba. There are three derivatives: Guanguanco, Yavo and Guaracha, from which you have the Mambo, the Cha-Cha-Cha and Son. To lump them under one word, "salsa," is quite disrespectful in my opinion. Tito Puente used to say, "I put salsa on my spaghetti, baby!"
ASG: The title track of one of your more recent albums was Eddie Harris' "Listen Here," his 1968 recording being one of the best selling crossover jazz singles of all-time –a million-seller – with clear Latin jazz spice.
EP: Eddie Harris was an amazing saxophone player and composer. The reason I did that was the gentleman Richard Seidel put me together with a lot of other jazz artists. I'm highly respected in the jazz community and you can't buy that. That comes through your experience on the bandstand and your form on recordings. It comes from what I've absorbed from Herbie Hancock, Chick Corea, Bobby Timmons, Dr. Billy Taylor, McCoy Tyner – we all know each other – and how we shared bandstands with Mr. Ramsey Lewis. These are all mentors of mine. Combine that with my brother's early influence and the Cuban pianists between 1940 and 1960, and you can see I had a lot to work with! It certainly has helped me get my own signature which is invaluable.
ASG: What was it like meeting Thelonious Monk?
EP: (hearty laughter) Well, there was a gentleman called Victor Venegas who played bass with Mongo Santamaria. My brother met him in Chicago in 1958. He came to New York and was playing with all the top bands. He met Thelonious Monk and in 1960 I was playing a place called The Corso and he brought Thelonious Monk upstairs to hear the Latin band. Afterwards we asked, "Did you enjoy it, Thelonious?" He just went, (grunts) "Uhhhh!" I said, "Wow! We just got Monk's seal of approval!" He didn't speak much but that sound said it all.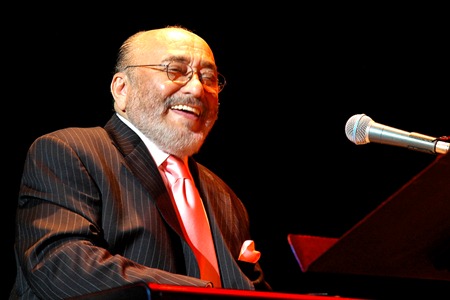 ASG: What do you have in store for us at the Hollywood Bowl?
EP: Oh, we're coming with a very potent orchestra. We did Australia earlier this year. From here we'll fly now to Europe for a third time. We're going to the Czech Republic, then Hamburg, then we fly directly to the Hollywood Bowl and from there I fly to Bogota, Colombia – they actually moved the date of the festival there to accommodate me for the anniversary of my 25th birthday…tres! At 25, you start counting from the beginning again, you know!
ASG: Ahhh, that's that new math, huh?
EP: Hey, not even Houdini can do that!
From Colombia we come back home then we leave for Johannesburg, South Africa, where I've never been – very exciting – then to Japan and Colombia again. By Thanksgiving, I'll say you could pick me up with a blotter! It's quite an honor to appear on all of these international bandstands. And, hey, they're not going to come to you, the awesome orchestra I'm traveling with has no problem bringing the party to them. It's a Big Band and every member of the orchestra is excellent. We've got quite a family status type orchestra. I call it Concentrated Power! I have some of my older music re-orchestrated for the big band. You get to hear some of the great hits we've had throughout the years – very exciting.
ASG: Any special memories of the Hollywood Bowl?
EP: Yeah…that LOUSY turntable that spins the bands off and on/around and around! (maniacal giggle) I don't even know what the hell they call that thing. By the time you get to play you're all dizzy (and he don't mean Gillespie)! THAT'S THE WORST IDEA I'VE EVER SEEN IN MY LIFE! Put that in large print please! (laughs) One of these days two bands are gonna crash up there!
Q: Why haven't you performed with Ruben Blades in America for 30 years?
A: Ruben traveled for many years with Willie Colon, made history and broke worldwide records in Latin sales. Then they each went on their own. Ruben later entered into the government in Panama so he hasn't been performing much until now. We've had a few engagements now and we're really enjoying it.
ASG: Will you be performing together at all in addition to your individual sets?
EP: Well, we might do it in France. If we do then we might do it at the Hollywood Bowl. We'll see… Right now that's not in the program. We each have our own orchestra, you know. Once you come with your own orchestra, my motto is, "Attack!" I don't care who he is! It's like the early Magic Johnson with Larry Bird. Eventually they became friends. There's even a play about them…thanks to Larry Bird's mother. You know how important mothers are?
ASG: Oh, absolutely. I love my mother.
EP: You do? Well, I miss mine… Luckily I have my wife.
ASG: Is she a lot like your mother?
EP: Oh, yes. She takes care of me. We've been together 57 years.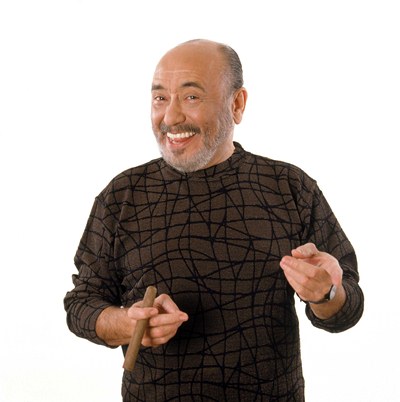 ASG: You brought up basketball which is perfect because you're about to do your first film score for Bobbito Garcia's basketball documentary "Doin' it in the Park: Pick-Up Basketball, NYC."
EP: Yes, my son is producing the music. It's coming out extremely exciting! And then we're finishing that off with extra recording. We just did three more so that we can come out with a special CD for next year. I wrote all of the songs and did all of the arrangements.
ASG: Was the music written for the film or was it music you already had?
EP: Oh yeah – for the movie! My son told me what the music was for. Then my son-in-law Scott is the one that taught me terms like "Coast to Coast" which is when they're running up and down the court like lunatics! Then we have another one called "Locked In" featuring the great Joe Locke on vibes. Then one called (*"Ibalita y tu Sol"*) –a fugue that I wrote for my third oldest daughter, Eliana, which she performed in Puerto Rico and won First Prize. My wife found the tape of the music I gave her in 1988 – marked in my daughter's own handwriting. I put it into the movie score and it came out great – just piano and rhythm. It has the sounds of the electric piano, strings, the organ and Bata drums – I went nuts!
ASG: Was it a dream of yours to do music for a movie?
EP: Oh, yeah-yeah-yeah…especially when I saw my first "Dracula" movie with Bela Lugosi! "Let me kiss you good night with a good night bite!" (cracks up) All those vampire movies they have now can't get close to Bela Lugosi! But he never made the money they make now. He insisted when they laid to him rest in his coffin that he was dressed as Dracula. Now that's a Dracula for you! The rest are all imposters, man… The Three Stooges never made any money. The Marx Brothers…they made some money.
ASG: Well, as a pioneer in your field you're doing better than ever.
EP: Yeah, well, longevity has a way of proving many people wrong. My wife keeps me alive with watercress parsley and pure garlic with virgin olive oil!
ASG: Some Dracula you are… Well, my time is up so I'll just share that my all-time favorite quotes of yours describing the way you play is, "I'm a frustrated percussionist…so I take it out on my piano!"
EP: (laughs) The thing is I always wanted to be a drummer. Tito Puente had made the timbales so popular in the late `40s/early `50s and all the kids wanted to play timbales. After two years playing with an uncle of mine, my mother bought me a very-very heavy case. Purposely. She'd wait for my uncle to hit the car horn for me to come downstairs to go do the gig. As soon as I'd go to pick up the heavy drum case she would say, "Edward! Don't you see how beautiful your brother is when he goes to work and he doesn't have to carry an instrument? When will you learn, Eduardo?" I'd say, (straining with the case) "I'm learnin', ma. I'm learnin'!!" When I realized I was heading for a hernia, I gave up the drums and went back to the piano. But I stayed with my percussiveness. And since the piano is a percussion instrument – with the hammers inside hitting the strings – my form of playing still reflects this. In the words of Donald Harrison, the great saxophone player out of New Orleans, "Eddie, man, you solo like a drummer!"
I look forward to meeting you, Scott – Mr. Drummer. If you come backstage at The Hollywood Bowl, I will personally put you on that merry-go-round! When they announce "And now Ladies and Gentlemen, Eddie Palmieri" and swing the thing around, the only one up there is gonna be you (hearty laughter)!!
A. Scott Galloway
Music Editor
The Urban Music Scene
(Interview with Mr. Palmieri conducted via phone August 7, 2012)