A. Scott Galloway Interviews Lee Ritenour & Mike Stern for Special West Coast Concert Team-Up






by

Guitar Greats Lee Ritenour & Mike Stern Team for Special L.A. Shows
Dual Interviews Conducted by A. Scott Galloway
Music Editor: The Urban Music Scene
A few months back when I was perusing the schedule for the upcoming months at Catalina Bar & Grill jazz club on Sunset in Hollywood, my jaw just about hit the floor when I saw that local hero Lee Ritenour was going to pair up with New York City guitar slinger Mike Stern for four nights in December. It is truly one of my most anticipated shows of the year. Seeing as I had seen both of these gentlemen MANY times as solo artists but had never interviewed either of them after all these years (hard to believe), I decided to seize this golden opportunity to speak to them both in separate conversations.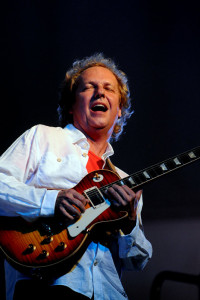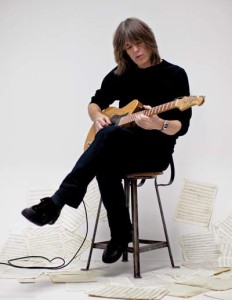 The cherry on top is that Mr. Ritenour and Mr. Stern are each promoting exceptionally strong new CDs – via Concord. In the conversations that follow, I spoke to each of them about what they dug most about each other's playing, the duo shows (THIS WEEK at Catalina's – December 13-16, Thursday-Sunday), highlights of their new albums and a couple of personal questions I've always wanted to ask. If you're a fan of either, I guarantee you will enjoy these lighthearted and candid conversations.
*****
Lee Ritenour – On Rhythm Sessions and more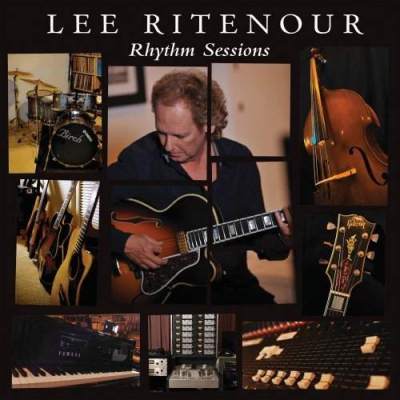 On the day I caught up with Lee, he was slightly under the weather with a cold he'd caught while on tour in Japan/Manila. He graciously gave me 20 minutes of wonderful reflections.
A. Scott Galloway: How long have you and Mike Stern known each other?
Lee Ritenour: We've known each other since we were in our 20s. We've had parallel but obviously different careers. We've been friends for a long time but never got a chance to work together until my last album, Six String Theory. Then we did a week of shows at The Blue Note in Japan in March 2011 then went back for the Tokyo Jazz Festival. It will be exciting to do this time for about 16 shows on the west coast here. He's an amazing guy. He eats, breathes and loves the guitar and his passion has never abated. Sometimes when we get older and have done so many things, some guys don't retain their enthusiasm. Mike still has a child like enthusiasm.
Scott: What about his style of playing do you love most and how does it mesh with what you do?
Rit: Our sounds complement each other very well. He has this very consistent sound he's had since he's been making records. I pepper it with several different guitars throughout the show. Since we're playing as two guitars, bass and drums – no keyboards – it'll be very open sounding and we'll have a chance to explore our guitar colors even more. I love his consistency and virtuosity and he's a very good composer.
Scott: How did the stylistic cornucopia for Rhythm Sessions come about?
Rit:  I took a page from my last CD, Six String Theory, where I matched legendary guitar players in styles that crossed jazz, blues, rock , acoustic, country, classical – you name it – and tried to make that a seamless album. For Rhythm Sessions, I wanted to center it around specifically my guitar. I had been touring with various great rhythm sections over the last few years so I thought what if I use the piano, bass and drums as an orchestrating tool, and capture live performances in the studio all interacting around and featuring the guitar. I handpicked people for various rhythm sections. For example, "The Village" I wrote specifically for Stanley Clarke (bass), George Duke (keys) and Dave Weckl (drums).
Scott: Herbie Hancock's "Fat Albert Rotunda" is killin'! Eric Gale's rhythm guitar part on the 1969 original was so damn funky. I know he was a truly special friend and peer to you. Reflect a bit about that tune and about Eric in general.
Rit: Eric had that ability to do chopping rhythm parts like that but still have the whole chord present. He was one of my favorite guitar players…so soulful on every song. We did a lot of performing and recording together. He left us way too soon. To respect the funkiness of Herbie's original version, we actually tried to get Herbie on the track but he was traveling so much. So we got Patrice Rushen and TWO bass players: Marcus Miller and Melvin Davis. So it got pretty funky.
Scott: A really young Marcus played on one of your funkiest songs EVER back in1979, "Rio Funk" (from the album, Rio). One hallmark of your new record is pairing up-and-coming musicians alongside veterans. Can you remember the first time you found yourself in that situation when you first started out?
Rit: The very first time was probably a session I did when I was 16 with The Mamas and The Papas. I was in a band that John Phillips was going to produce our demo up at house in Bel Air which had a full-on recording studio which made a huge impression on me at the time. This was the late `60s and I was a teenager. After the demo, he asked me to stay and play for his group with Lee Sklar on bass and Ed Greene on drums (who went on to work a whole lot with Barry White). That was my first time in the big leagues. But I think the biggest first gig I had wasn't in the studio but live when I got a call to sit in for Gabor Szabo one night when he couldn't make a gig. This gig was for Lena Horne who was co-headlining a concert bill with Tony Bennett! I was 18, it was at the Dorothy Chandler Pavilion (part of The Music Center in Downtown Los Angeles – the city's premier classical music venue back then in the days before Disney Hall) with full orchestra. Lena loved guitar players – a big part of her show – and she would put them right up front on a stool almost next to her. So there I was backing up Lena and Tony with a tuxedo on. That was one of those moments where you're thinking "Yeah, this is kind of a cool gig."
Scott: Were you scared or were you completely ready for that?
Rit: I remember being nervous but I was so prepared as a young player. I was such a nerd that I had been practicing my butt off ever since I was 12 years-old. So the gig was not a problem.
Scott: "L.A. By Bike" on Rhythm Sessions is a cool shuffle featuring you on acoustic with organ. Are you a bicycle enthusiast?
Rit: Absolutely! Bicycling is almost a sub-theme of the album. I also have songs titled "Rose Pedals" and a version of Dave Grusin's tune "Cycles." Something I haven't talked about much but have been doing for years is whenever I prepare for an album – any album – I do a lot of bike riding in L.A., especially at the beach. I just listen to tons of material on headphones as I ride my bike. I listen to all kinds of music – all styles, old and new – just to open up my "music receiving channels." Sometimes if I'm writing a song, I'll jam on an acoustic guitar for 30-40 minutes, record it onto the computer, dump it into my iPod then take two bike rides going and coming to listen and see if there's anything of interest to me. Sometimes it's just all bull. But once that muscle gets strong for composing, some lil' tid bits begin to appear. "L.A. By Bike" began as one of those jams that had that vamp on it. I made a note to check that part out at the 17-minute mark when I got home. When I got there, I started working on a piece based on that.
Q: How was it working with your son Wesley Ritenour playing drums on a song?
A: That was a great experience. I was very careful with Wes because he eats, sleeps and dreams music. He turns me on to so much. Two songs on the album – "800 Street By Feet" and "Spam-Boo-Limbo" – are by this great trio called E.S.T. (Esbjorn Svensson Trio). Wes turned me on to them when he was about 13. I'm a big fan of their compositions. One thing I borrowed from them is they kept their music very acoustic and organic with piano, bass and drums but peppered it with heavy electronics and ambient sounds to modernize the concept of the modern trio. I did a similar thing with my overall approach on Rhythm Sessions.
Wes knew the tune so well that I had him overdub his part. It's a very structured song and the guitar part is kind of locked in. Even Christian McBride's bass part was very specific except for his solo. The only other part on the song that had more freedom to dance around the tune was the drums part which ended up being a good vehicle for him. I didn't give him much instruction. Wes checked out my track before I had him in the studio then when we got in, I looped the piece, gave him 30 minutes to play around with it and told him I'd be in the other room when he was ready. When the engineer came and got me, we did three takes and that was it.
*****
Mike Stern – On All Over The Place and more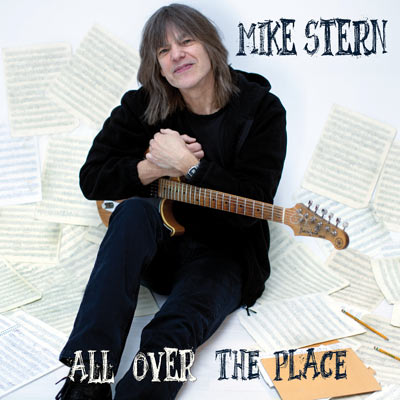 It was a real treat to rap with Mike as I've always admired him as an east coast guy who faithfully comes to play in L.A. every year. I still have vivid memories of him playing here in the `80s at a long gone Santa Monica club called At My Place when the band featured the late Bob Berg on sax, drummer Dennis Chambers and bassist Lincoln Goines. You're going to love Mike's sincerity, passion, laidback vibe…and humorous perspective on marriage vows!
A. Scott Galloway: I've been looking forward to these shows you're doing with Lee Ritenour since it was on Catalina's calendar. How did you get together?
Mike Stern: I was on his last record, Six-String Theory. Then last year Lee asked me to do a week with him in Japan with (keyboardist) John Beasley and (drummer) Simon Phillips. They made a DVD from it. We decided to continue one more time on the west coast as a special project. He's a lot of fun to play with, man, and a great cat. Our styles are compatible and we find plenty of common ground. We do some of my tunes and some of his tunes.
Scott: I've always perceived you two as entirely different kinds of players – you out of NYC with a lot more edge and him more as a smooth west coast technician.
Mike: Yeah but he gets it goin', I'll tell ya. He can really play! And it's a nice combination. I like playing with people where the styles are different and there's a nice contrast. And he rocks his butt off, Lee. We go in that direction some. And because he's classically trained he also plays beautiful acoustic nylon string guitar. Sometimes it's the Yamaha – the silent guitar…the one without the body – but it really sounds great, especially when he uses it on some of the ballads. We're going to be playing with just Sonny Emory on drums and Melvin Davis on bass – no keys – just two guitars and rhythm section. So it should be even more open and fun. We'll be featured individually and then we play together.
Scott: You are one of the rare New York jazz guitar players that has consistently played Los Angeles over the last several decades. I was just talking to Steve Khan who I love but he's never been able to get out here. John Scofield makes it out but not John Abercrombie. What made you prioritize the west coast in your travels?
Mike: I love it, it's such a great music scene there – so many great musicians…and I mean in all of California, San Francisco, too. It's off the hook so it's a groove! There are a lot of listeners that always come by the club and Catalina's is the best place. My band has been here for the last 7 years but I wanted to do different things. Lee and I had the same thing in mind – something fresh.
Scott: How did you develop your L.A. following despite the lack of radio airplay?
Mike:  Colleges play the records but I don't record 3-4 minute tunes. The solos alone on my records are 3-and-a-half minutes…apiece! (laughs) But it's loosening up in certain places. People want more of that. L.A. is still one of the strongest markets for jazz…all kinds of jazz, for sure. There's a lot of musicians and a lot of non-musician listeners. I feel so fortunate to have had a career go on for so long and consistently terrific. I get to play with amazing players, get my own music out there – 16 solo ones now – so I keep pushing trying to find new stuff to play.
Scott: You certainly gave your new album a fitting title. Tell us about it.
Mike: My latest album is titled All Over The Place and I really dig how it came out. I used a whole bunch of different people but everybody plays their butt off on it. I've always wanted to do that – getting a bunch of people together that I don't usually record with much or at all. The next record will likely be a much smaller group but this has been fun. To do a record with as many people as I have this time, it's important that I write all of the tunes – to give it the consistency. The music is coming from one place.  I've got Richard Bona, Esperanza Spalding, Al Foster, Dave Holland, Randy Brecker, Kenny Garrett and Chris Potter. We did it all in New York except last year I was in L.A. with Dave Weckl, Richard Bona and Bob Francescini and we did two tunes there. We cut them in one afternoon then did the gig that night at Catalina's. Richard overdubbed his vocals later but I like to do everything live with everybody there in the studio together.
Scott: "Cameroon" is really smokin' on this CD. Have you been there?
Mike: I've been to Africa a few times but not Cameroon. (Bassist/Vocalist) Richard Bona is a good friend from there so this was my way of showing how much he inspires me. This one's for him. Lee and I will probably do that tune instrumentally in L.A. It's got an African flavor but my wife Leni's music got more authentic African stuff with the instruments and everything. (Note: Check out Leni Stern's CDs Africa, Alum Maye and Sabani on her self-named recording label Leni Stern Music.)
Scott: I just completed a liner note essay for a CD reissue of The Brecker Brothers Band's 1976 album Back to Back (Soul Music Records) so I couldn't help remembering seeing you on Michael Brecker's first solo tour taking that screaming guitar solo on "Original Rays." What are your memories of the late legendary Michael Brecker?
Mike: Their whole family was just amazingly down to earth with great senses of humor and wonderful people…but Michael Brecker I just loved. He had some of the same (mess) I was going through when he was gettin' high for so many years… Then he kinda cooled out ahead of a lot of people. And he really helped me when I got sober. On that level, he was amazingly helpful. And, of course, his music was always such an inspiration. He was as fantastic a person as he was a musician. I love Randy Brecker, too. He plays with my band and I play with his sometimes – The Brecker Brothers Reunion Band.
Scott: I love your writing, particularly your ballads, and especially one you recorded back in `96 on Between the Lines (Atlantic Records) titled "Wing and a Prayer". What was the inspiration behind such a beautiful, haunting melody?
Mike: Thank you, brother. Lee has orchestrated that tune for two guitars so you'll hear that in L.A. as well. The inspiration for that was bittersweet stuff…feelings that are sad and hopeful at the same time. A lot of that comes from my wife, Leni, We've been married for over 30 years now, 'together' even longer and our chemistry just works. Guitarist Bill Frisell introduced us casually. We were really lucky to have found each other so she's very much in my heart when I'm writing most of my ballads. It's so difficult to get that happening. Some of my friends marry then break up after a few years. I think they should be grateful for having those few years. My parents married and divorced a bunch of times…
The expectations of a marriage might be a bit unrealistic sometimes. Personally, I think they should change the marriage vows. The priest should say, "I now pronounce you man and wife. Do the best you can and if it don't work out, don't kill each other. Be grateful for whatever you get and, hopefully, 'til death do you part!" You know, kinda redefine that…`cuz it's hard! (laughs)
Scott: I understand that you keep very busy, so in closing please share about some of the exciting projects you have in store for 2013.
Mike: In April I'm playing a bunch of gigs with John Scofield but that will mostly be on the East Coast. In May I'm doing something with (saxophonist) Bill Evans. In the summer I'm doing a co-led thing with (bassist) Victor Wooten. He is such a really cool, positive person. Do you know that cat turned 6 years-old on the road opening for Curtis Mayfield as a kid with his brothers? So when he plays, you know right away this cat is a natural from jump! I wrote a cool song that features him on my new album called "Half Way Home."
So I'm jumpin' all over the place doing different stuff. And I love to teach. I'll be doing more of that maybe in 2014…staying home more.
A. Scott Galloway
Music Editor
The Urban Music Scene