Huggy Bear Jumps on The Blues Bandwagon!






by

Actor Antonio Fargas Leaps Into Song With The New Jump Blues Band
by A. Scott Galloway
The New Jump Blues Band is one of the most exciting, foot-stomping musical acts to leap onto the national stage in years. Based in Los Angeles, this tight combo of 4+3+4 (rhythm quartet, 3-piece horns and 4 singers/dancers) brings new energy to a style that has its roots in the swing era, blending up-tempo elements of blues and jazz and adding touches of calypso. It showcases dynamic front man/MC Antonio "Huggy Bear" Fargas, the singer and actor who gained fame and a nickname as the iconic street character from mid-'70s TV's "Starsky & Hutch." And they're going to electrify audiences on Sunday May 5 at 3:30pm for a FREE Cinco de Mayo special show in conjunction with the "Playboy Jazz Festival" pre-concerts at the Beverly Hills Civic Center.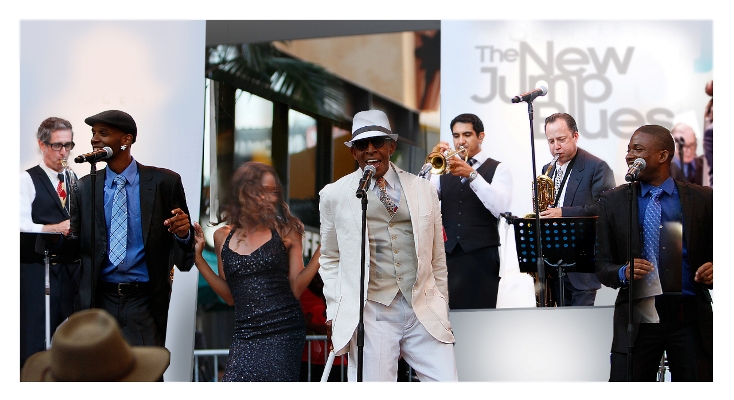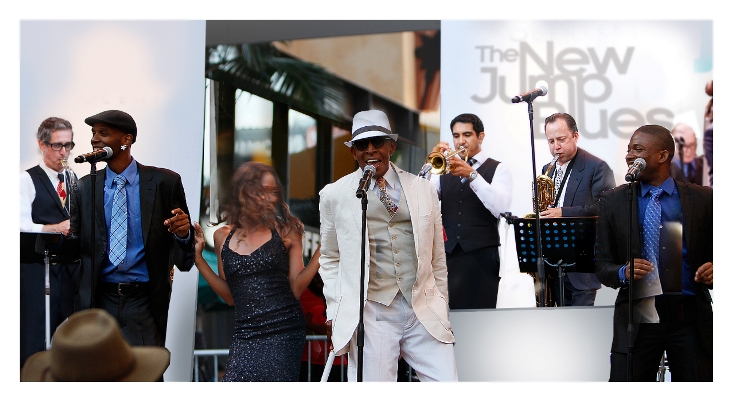 Born in New York City a Leo of Puerto Rican and Trinidadian heritage on August 14, 1946, Fargas made his film debut in 1964 in Shirley Clarke's underground classic "The Cool World," a gritty tale of youths growing up in Harlem. He co-starred in so-called "blaxploitation" films including "Shaft," "Across 110th Street," "Foxy Brown" and "Cleopatra Jones," and was featured in the classic "Next Stop Greenwich Village." On stage he played a 90 year-old witch doctor in "The Great White Hope" and was also in Melvin Van Peebles' "Ain't Supposed to Die a Natural Death." Fargas played one recurring character on the soap opera "All My Children" in the `80s and another on "Everybody Hates Chris" in the 2000s.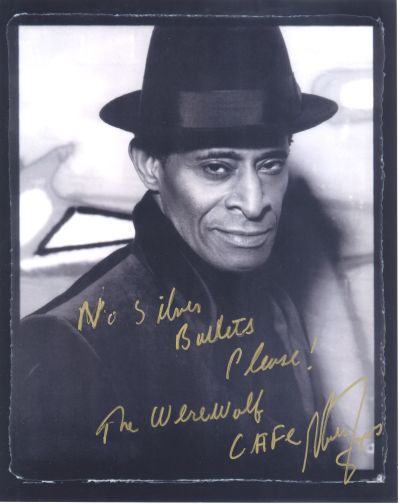 It was his performance of a pimp in the 1974 film "The Gambler" that helped him land the career-changing role of "Huggy Bear" (a hustler NOT a pimp) from 1975-1979 on ABC-TV's wildly hip and popular cop show "Starsky & Hutch." But it was perhaps his turn as Harlem band leading legend Cab Calloway in a stage production of "The Blues Brothers" that pointed the way to him embracing his musical leaning with The New Jump Blues Band.
"Jump Blues" is an offshoot of big band swing featuring smaller ensembles with rousing horns and irresistible rhythms that "defy standing still," tapping into that infectious energy, setting a modern tone while tapping into the traditions of the great jump blues artists of yesteryear, such as Tiny Bradshaw, Wynonie Harris, Louis Jordan and Ella Mae Morse. The New Jump Blues Band has helped spark a revival of the style with rousing Los Angeles area performances at the Hollywood & Highland Summer Jazz Concert Series, the Central Avenue Jazz Festival, and the Twilight Concert Series at the Santa Monica Pier.
The Urban Music Scene Music Editor A. Scott Galloway speaks to Fargas about his up to now unknown roots in music and plans for the new ensemble's growth and his opinion on being so widely known for a TV character he created over 30 years ago,
A. Scott Galloway: You have pleasantly surprised the world popping up in this new musical affiliation. Where and when did you get your start in music?
Antonio Fargas: It's sort of a culmination of a first love, really. Before I even learned how to speak I had rhythm. I spent a while trying to find my voice from the acting point of view – learning how to create emotion and tell stories with a script. Now it's a combination of emotion with a script set to music…the music of life. I remember walking in Harlem and music blaring out of speakers down 125th or 116th street – jazz giants all around me. I grew up wondering why they were so selfish then later came to understand the discipline and sacrifices it takes to make this music. Now with our recent music, we can celebrate some of the pioneers and the urban rhythms made here in the United States – jazz and blues.
Galloway: What years are we talkin' here and which artists most impacted you?
Fargas: We're talkin' about the `60s…we're talkin' about Wilson Pickett, Otis Redding, James Brown, James Cotton and Muddy Waters…appreciating the pioneer work of Little Richard and now the obscure artists I'm starting to discover in my late journey of this music history. One of the most phenomenal things that happened to me was when I was 17 opening in a play in Vienna, Austria. I was raised Catholic in Lower Manhattan. Sunday was our day off. I woke up, turned on the radio and heard the most exquisite gospel music that I never heard in the states. To realize that Europeans were into our music – the roots of our music – and knew more about it than me, this African American young man, was heavy to me. I equate that to the short history that young musicians have today – not realizing the shoulders that they stand on. I realize the shoulders I stand on so I'm preparing the shoulders of the young people to take my legacy, run with it and hopefully add to it.
Galloway: How old are you now?
Fargas: I'll be 67 in August. I was a baby boomer. I started in the business when I was 14. This is my 53rd year. I'm one of the young pioneers! I never thought I'd be a social security guy or a pension guy. Through the grace of God, I'm all of that and feel grateful for the wonderful journey I've been on.
Galloway: When did the concept for The New Jump Blues Band begin?
Fargas: About two-and-a-half years ago. My good friend Jimmy Maslon is a producer and player with a close history of the music. We're close friends that wanted to find an expression for our musical hungers that could have some unique voice. He's a historian of African American music – music in general. He brought this concept to my attention because he felt it was in the wheelhouse of what I could bring to it as a dramatic player – to this music and to the rhythm. So it's a marriage…morphing into this performing band. Even at this age I'm hungry. Some of the younger people that I'm working with as well as the more established musicians in the band like what we feel. And we want to translate that to the audience on May 5th in Beverly Hills for Playboy.
Galloway: I saw a clip of the band at the Hollywood & Highland summer set last year and I was knocked out! The performance was so hot – high energy and totally authentic to the Jump style and era. How did you go about assembling the repertoire? And are there any original tunes?
Fargas: There are a couple of original tunes but we're really collecting and paying homage to the more obscure musicians that toiled out there except for those who really knew and followed the music. So it's a reintroduction and all seems new. I'm trying to find my voice as a writer having musicians around that inspire me to create.  It's a creative atmosphere when Jimmy and I get together. Then we bring in the group and they're eager to support. My writing has yet to flourish but I'm looking forward to giving voice to some of the words that I have in my head.
Galloway: Do you foresee the band exploring a CD or home video component?
Fargas: The main thrust is for us to be a performing band. The music industry has changed so much with downloads and such. Then everything you do eventually winds up on YouTube or someplace. I think there's a place for mass distribution of what we do whatever incarnation that takes. But I'm 67 years-old. I don't know how long my window of opportunity is to take advantage of that. I want to create new memories in people's minds. Hopefully it will be documented in places the internet can reach and people can see what our legacy is that is created.
Galloway: How far has this project taken you thus far?
Fargas: This will be our fourth or fifth date. We're looking for bookings, doing festivals, and for possible opportunities in Europe. We realize the hook of "Antonio Fargas" because of what my name brings to the New Jump Blues Band. We have booking agents on the East Coast and West Coast. I also have a lot of fans that want to see anything I might try to do! That's worldwide because of the power of television, the power of being on a show like "Starsky & Hutch" and having fans that endured for almost 40 years. So there's much work to be done.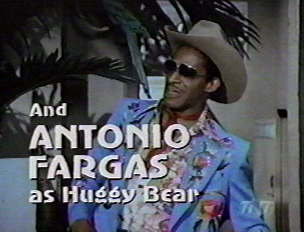 Galloway: You're so recognized for the character "Huggy Bear" – L.A. undercover cops "Starsky & Hutch"'s eyes-and-ears on the street. You've done much more work since the `70s yet you will forever be recognized for that colorful, sometimes controversial "ghetto" character. How do you feel about that?
Fargas: I embrace my legacy with open arms. I'm a character actor and "Starsky & Hutch" was just 4 years out 53 I've had in the business. I've done theatre, I've done movies. I've done many things. You can do a Broadway play for 5 years straight of full houses and still not reach the amount of people you reach with just one night of a syndicated television show which goes around the world. So the power and respect that I have for the foundation of my career…the hook of my career…is profound. Once you see me in other venues, you see that there is possibly a method to the madness…that there is a craft involved…because I am not "Huggy Bear." I am Antonio Fargas and I've been given a gift. I have so much respect for all the characters I've played. I don't put "Huggy" above "Les Baxter" in "All My Children" or "Lindy" in "Car Wash" or "Bernstein" in "Next Stop Greenwich Village" or "Fly Guy' in "I'm Gonna Git You Sucka" (with a special character theme song written just for him by Curtis Mayfield).
When I look back, you know, there's something I did one day at a time that speaks for itself. I'm very proud.
– A. Scott Galloway
Music Editor
The Urban Music Scene