"Drop Top Drive By" w/Jeffrey Osborne | Special Playboy Jazz Edition






by

Playboy Jazz Festival Drop Top Drive By Interview:
Jeffrey Osborne
by A. Scott Galloway
Jeffrey Osborne came to prominence as the lead singer/drummer of the `70s soul band L.T.D. (Love Togetherness and Devotion). After singing such now classic hits as "Love Ballad," "(Every Time I Turn Around) Back In Love Again," "Holding On (When Love Is Gone)" [all #1 Billboard R&B charters] and "We Both Deserve Each Others' Love," he segued into a solo career in the `80s that rendered him among the biggest R&B heartthrobs in the business with hits like "She's On The Left" (#1), "I Really Don't Need No Light," "On the Wings of Love," "Stay With Me Tonight," "Love Power" (w/ Dionne Warwick), "The Last Time I Made Love" (w/ Joyce Kennedy), "The Borderlines" (produced by the late, great Raymond Jones) and "Only Human" (an album just reissued on CD by SoulMusic Records).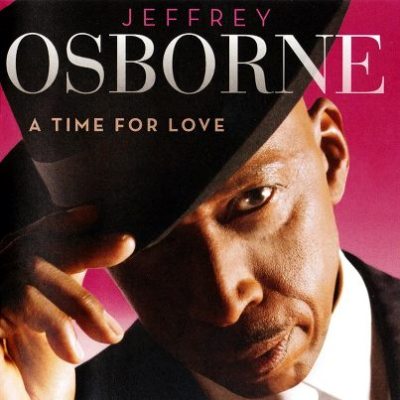 This year, Jeffrey has realized a lifelong dream of recording a jazz-oriented album of standards titled A Time For Love (on Saguaro Road/Time-Life Records). Produced by George Duke (who was also behind the boards for many of Jeffrey's earliest hits), the project finds Osborne surrounded by serious jazz cats such as bassist Christian McBride, trumpeter Walt Fowler, guitarist Paul Jackson Jr. and saxophone up-and-comer Kamasi Washington (an L.A.-based "Playboy Jazz Festival" discovery). Among the 12 songs, Osborne croons and swoons his way through gems such as "The Shadow of Your Smile," "Teach Me Tonight," "You Don't Know What Love Is" and "Nature Boy."
In the quick chat below, Jeffrey discusses his jazz roots, the making of the album, his duet with a very special vocal guest, his too-long-ignored beginnings as a drummer and his take on the "Playboy Jazz Festival" experience…from the aisles.
A. Scott Galloway: Why a jazz album now?
Jeffrey Osborne: I've always wanted to do it. It's just one of those things the record company kept holding off on me. They kept saying "No we want original material."  I'm finally at the point in my career where I can slow down and do things I've always wanted to do. For the last eight years George (Duke) and I have been talking about doing this record. So we finally got a company interested. Time-Life came in, was very excited and got it out. It came in at #1 on the Contemporary Jazz Chart. I'm shocked! It's my favorite record I've ever done.
Galloway: Really?!
Osborne: Yes. It's the music, when you're doing R&B and pop you don't get people like (saxophonist) Everette Harp and (trumpeter) Rick Braun to play solos on your record. I love it.
Galloway: How much did jazz play a role in your development when you were starting out?
Osborne: A major part. My father, Clarence Osborne, was a great jazz trumpet player. He was deceased when I was 13 years-old, but he used to play with Basie and Ellington and all those guys when they came through. I have an uncle who was a soloist with Duke Ellington so those are my roots. I was the youngest of 12. I had to wait my turn to listen to what I wanted to listen to so all I listened to was Ella Fitzgerald, Sarah Vaughan, Carmen McRae, Gloria Lynne and Joe Williams – I grew up with that. I'm more comfortable doing that than R&B really. So this is very easy.
Once you come out in the R&B vein and you're hot, the industry only wants more-more-more of that. I never got a chance to stretch and do this so it's really refreshing for me.
Galloway: So the new album is all standards?
Osborne: Mostly…I also took a couple of pop classics and did them in a jazz way like "Close to You" and "Don't Let Me Be Lonely Tonight." I heard Nancy Wilson do that years ago and fell in love with it. And then I did a duet with Chaka Khan on "Baby Its Cold Outside."
Galloway: We all know Chaka has sung many jazz songs on records and in concert but why did you choose her as opposed to a singer more strictly in the jazz world?
Osborne: She wanted to do it. George Duke does this thing with the United Nations. Chaka was there and he told her what we were doing. She said she wanted to sing a duet so I said, "Let's do it!" It was that simple.

Galloway: Are you playing any drums on this record?
Osborne: No. I haven't played drums since I stood up and got away from them with L.T.D. in 1976. I do miss it but it's one of those instruments you have to play. You can't go away for 25-30 years then sit down and think you're gonna play again. Its touch sensitive… But I'm gonna start shedding again. I use to play a song in my show but I haven't done it in years. I'll get back into it.
Galloway: Well, when you have guys like Steve Ferrone (now with Tom Petty & The Heartbreakers) playing for you…
Osborne: Yeah, who wants to pick up a stick around him!
Galloway: Have you attended the "Playboy Jazz Festival" – if not as a performer as a patron?

Osborne: I don't think I've ever performed at the festival but it's a true music lovers' festival. I mean you get the best of the best here. There are no gimmicks. It's straight ahead unbelievable virtuoso music – across the board. That's what I like.
A. Scott Galloway
Music Editor
The Urban Music Scene