"Drop Top Drive By" w/Poncho Sanchez | Special Playboy Jazz Edition






by

Playboy Jazz Festival Drop Top Drive By Interview:
Poncho Sanchez
by A. Scott Galloway
Los Angeles-based conga master Poncho Sanchez has been a regular and welcome presence at the "Playboy Jazz Festival" One of this writer's most awesome PJF memories is when Poncho and his band dropped down into their Latin Soul version of James Brown's "Cold Sweat" (based, of course, on the Latin classic version recorded by Mongo Santamaria with Bernard Purdie on drums) as the finale of their early evening set a decade or so back, sending the entire crowd into euphoria, up on their feet and groovin' hard! This year, Poncho will be paying homage to another great musician at this year's festival with his special "Ole' Coltrane" set dedicated to the legendary saxophonist/composer John Coltrane that will feature special guest saxophonist James Carter.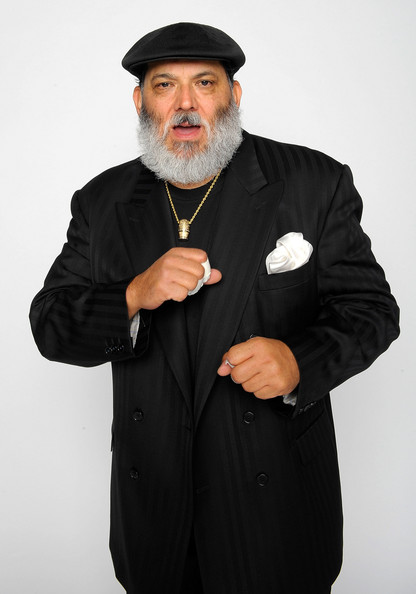 Other recent recordings by Sanchez include Chano y Dizzy, a collaboration with trumpeter Terence Blanchard in tribute to Latin Jazz composing pioneers Chano Pozo and Dizzy Gillespie. Mr. Sanchez – who turned 60 on October 30, 2011 – won a 1999 Grammy for his CD, A Latin Soul and also performs sizzling sets of "Soul Latino" joints featuring Memphis Soul singer Eddie Floyd that have audience boogalooing in the aisles, snapping pictures with their iPhones and full-on iPads. Steve Jobs would be beaming! Poncho's music and infectious performances have made him a ambassador for Latin jazz around the world, recent performances including Hong Kong, China and Seoul Korea. But there's nothing like a hometown audience and this writer was proud to witness Poncho TURN THE MUTHA OUT during a free concert in the courtyard of the Holly & Highland complex a couple years back that was documented on his most recent CD, Live in Hollywood.
I spoke with Poncho about Ole' Coltrane, the historical significance of Chano y Dizzy, the ongoing controversy over the Grammys scaling back ethnic award categories, how he keeps his health on-point post-60 and other recent happenings in the chat that follows.
A. Scott Galloway: What can we expect Saturday from "Ole' Coltrane f/ Poncho Sanchez Latin Jazz Band w/ special guest James Carter?"
Poncho Sanchez: We're gonna come out first and do what we do, and then we bring James Carter out and do the music of John Coltrane. We've been doing it with our band already just with our saxophonist. We've got about 7 tunes ready right now. By the time of the show we'll have even more. James Carter is going to play on our next record, too. We're going to call it Ole' just like Coltrane's album and it's going to be all covers of his music.
Galloway: So you're going to play all these arrangements live, get them tight to perfection then go in and record them?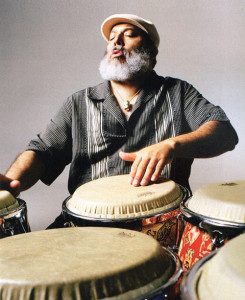 Sanchez: Pretty much so. We try to get the music really together then kick around other ideas while we're in the studio. I've been with Concord Records for 30 years and the 28 CDs I've made usually are a week or two of preparation then we just go in and do it – on-the-spot. Our Music al Director might write something out right in the studio and we try it. One or two takes and we're done.
The ones we already have written out include "Giant Steps" as a real fast mambo, "Blue Train" as a cha-cha, and a 6/8 number called "Mr. Night." We're focusing only on songs Coltrane composed. There's a couple more obscure tunes from his Avant-Garde' time as well as some earlier stuff.
Galloway: Are you going to do "Equinox?"
Sanchez: We don't have that one down yet but I've always liked that tune. The intro on that one is funky! There are so many tunes we can do. By the time we go in we'll have 10 or 12 that we'll mix up and do really different.
Galloway: Are you considering anyone else to collaborate on this Coltrane project?
Sanchez: Yeah, John's son Ravi Coltrane. I hung out with him in Seattle a couple of years back. We got along really well. We're setting up the base so that we can collaborate with any number of people. We're going to start with James Carter then work this concept for a whole year hopefully with more cats like Joe Lovano.
Galloway: What makes Chano Pozo a key figure in jazz music?
Sanchez:  I learned about Chano in junior high through his classic recording of "Manteca" with jazz trumpet great Dizzy Gillespie. He was a great conga drummer and Rumba dancer from Cuba with a great mind for thinking up amazing tunes. He was only on the New York jazz scene for three years before he was shot and killed at the Rio Café. Imagine if he had lived another 30?
Galloway: Why was Chano's big hit "Guachi Guaro" renamed "Soul Sauce" when your former boss (vibraphone legend) Cal Tjader cut it?
Sanchez: Verve Records wanted a title that was easy-to-market.
Galloway: How did you meet Terence Blanchard?
Sanchez: When my band played The Jazz & Heritage Festival in his hometown New Orleans, he sat in with us. He later played "Stella by Starlight" on my CD Soul of the Conga (2000). When my manager had the idea of doing this tribute CD, he asked what trumpet player I wanted. We picked Terence because we have a ball playing with him.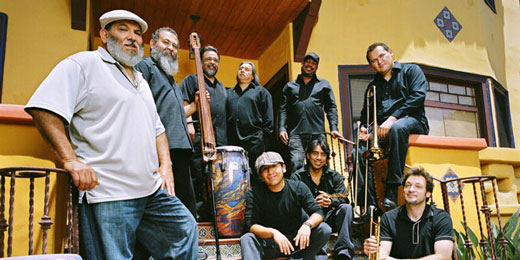 Galloway: It must be tough leading a 10-piece jazz band in these economic times.
Sanchez: Man, I have an office manager running my Poncho Sanchez Enterprises, LLC, keeping my band members straight with the union, I have my travel agent booking tickets five months in advance to get the best hotel and air fares, and an accountant to keep up with my income taxes. A successful musician MUST be a good businessman.
Galloway: How do you feel about the initial success of the campaign that got the Grammy organization to reinstate several categories of ethnic music?
Sanchez: It's a great thing. You wish that all of the categories could be back. On the other hand…that's their thing. We can't tell them what to do. We're members and can put our two cents in. But when it comes down to it, like any huge company, it all comes down to a handful of people that run the whole show. They're gonna do what they're gonna do. Sometimes you have to know when to lay back and when to jump in. There comes a time when you have to stop pushing for others to recognize what you do and be cool in our own space.
When we won a Grammy in 1980 with Cal's band (for La Onda Va Bien), our category was called the Best Latin Recording. When Latin Jazz finally got a category, we were very proud but it was long overdue. I record Latin Jazz records for a living regardless of whether or not there's a Grammy category, but it's nice to be recognized by NARAS (a.k.a. The Recording Academy).
Galloway: Playing congas and percussion, leading a band and doing the amount of traveling you do must take quite a toll. Now that you are over 60, what do you do to maintain your good health?
Sanchez: Thank God for my wife, Stella. In July 2012, we celebrated 40 years of marriage. When I was younger I went a little crazy, drinking and eating my barbecue ribs. One day I thought, "Hey man, you better chill!" So during the week we eat salads, fruits, chicken and rice. We might have one glass of red wine while we relax and watch TV. On weekends we splurge and eat what we want. I take multi-vitamins and enzymes, and almost every day we take our weenie dogs Tjader & Mambo (white with brown spots) for a two mile walk around the park – for them AND for us!
A. Scott Galloway
Music Editor
The Urban Music Scene