Our Conversation with Earl Klugh | 36th Annual Playboy Jazz Exclusive 2014






by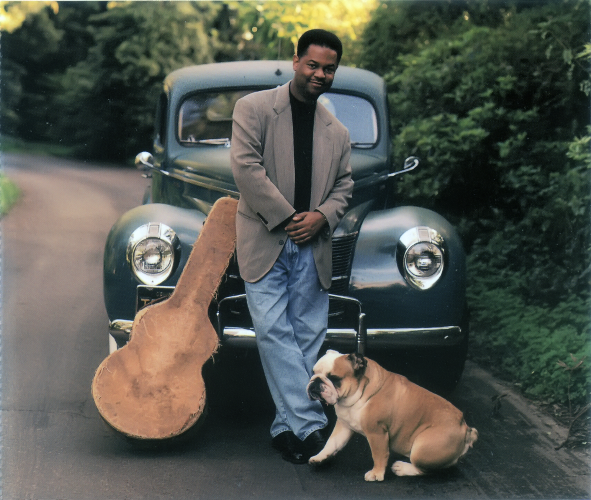 Earl Klugh
One of Contemporary Jazz's legendary guitarists of our time comes center-stage to the Playboy Jazz Festival on June 15th for a special performance. Our publisher Terrill J. Hanna sat down with Mr. Klugh and discussed what's going on behind the scenes, a thought or two about the late George Duke, recording new material, a look back at a few classic collaborations and much more. Pull up a chair and check out the conversation!!
Terrill Hanna: Good Morning Mr. Klugh!
Eark Klugh: Good Afternoon….this is great! If you are in California, you are having some great weather.
Terrill Hanna: Yes, I am 3 hours away from you and here we are with the Playboy Jazz Festival coming up.
Earl Klugh: Coming right up. I can't believe it. You look up and it's right here. I am really looking forward to it. There's been a couple of years as to when I wanted to come back to it like I wanted to. Lots of times, but you got to do what you got to do. I was really, really excited about being able to do this one (36th Annual Playboy Jazz Festival – June 15th). This is really a lot of fun. It's going to be a lot of fun…
T. H.: The entire weekend will be nice, especially with the tribute to the late George Duke.
E.K: Oh yes, absolutely.
T.H.: I believe you have shared more then enough studio time with him.
E.K.: Yes, and going out to dinner, and all those neat kinds of things. Just a GREAT guy. Just fabulous.
T.H.: When you come on stage to perform, knowing how deep your discography runs – starting from 1976, "Living Inside Your Love," – what do you have planned for the fans at the Hollywood Bowl?
E.K.: Oh Boy….Hopefully some GOOD MUSIC! (Laughter)
T.H.: (Laughter)
E.K.: What I usually do, especially when it is something major like this event, is I do take the time to go through my discography just to see if there is something there. Something I know they will enjoy hearing me play from way back in the past. When you are touring and playing contemporary music, some of the other things pop up, so I try to take pieces of all of the albums and material I have done from over the years and make it enjoyable to the listener & fans first and foremost. With that in mind, I started writing my songs down that are interesting and see if I can stick to it and/or change it. I think the Hollywood Bowl is going to be loaded with memories from me. I have done it so many times. It's always a joy and its one of the great places to play. You are a musician, that's for sure.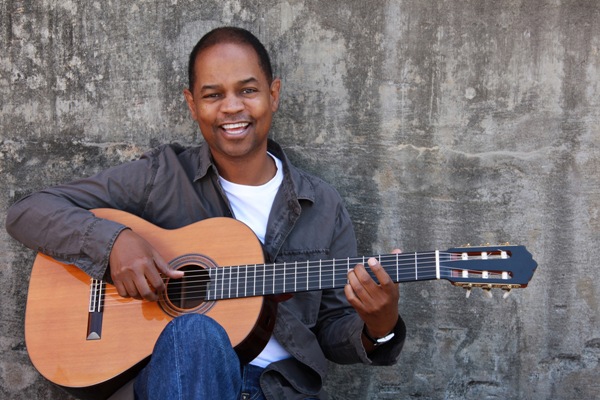 T.H.: That's the trademark about the Playboy Jazz. The ambiance, legacy and cultural standpoint for jazz music. And you covered all aspects about the music from over the years. Some latin jazz, samba…in melodies and compositions. You have approached it in various ways, from contemporary to smooth jazz and urban. However, "Handpicked" your latest release, sounded like a completely different direction. Please talk to us about the Heads Up/Concord Music Group release…
E.K.: Oh Yes. Sometimes you get to a point, where I was looking at my discography….I enjoy doing solo albums from time to time…. and I was just getting ready to think about doing another solo recording until something came to my mind. I wanted to try doing a guitar album with a room full of guys and some really great players. Try to put together something. Not trying to sell a zillion records but create a beautiful recording that will have some very interesting things. Once you listen to it a few times, it kind of grows on you because the music will come from a lot of different areas. I thought it would be a very nice way to do a guitar recording like that. After so many years, I think it is important to document your playing and a lot of the players I was fortunate enough to have on the recording. It was really a lot of fun.
T.H.: That was your newest recording since 2008. It's been quite sometime. We need you out there man. (laughter)
E.K.: (laughter)…I'm busy now!
T.H.: GOOD! (laughter)
E.K.:….and I got some good things that are getting ready to happen. I'm really excited about it. If you are out there at the Bowl, I tell you about it (backstage).
T.H.: You got it….I'll be there.
E.K.: Cool!
T.H.: Being that you are one of the last music legends that are still with us, we ask that you PLEASE continue to bring us new music!
E.K.: Oh yes, I will. I'm in the process of doing that right now. Don't worry about that. Not unless I get hit by a Mack Truck. (laughter)
T.H.: (Laughter)
E.K.: I still got stuff to do, you know?
T.H.: (Chuckles) – That's RIGHT.
For the weekend of jazz in South Carolina (Kiawah Island), are you doing it again for 2014?
E.K.: Yes, definitely.
T.H.: Who do you have scheduled or lined up for that weekend?
E.K.: We are putting it together and it's almost done. It's going to be great. I'm looking forward to it. It's a really great place to have a show at. I look forward to it every year.
T.H. Right on. South Carolina is looking forward to it too so I wanted to make sure to give them a shout out in today's interview.
Last night, I pulled out the collaboration masterpiece between George Benson and yourself.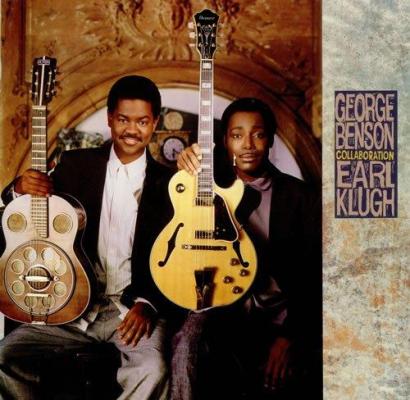 E.K.: YES!
T.H.: Quite possibly one of the greatest collaborations in all of contemporary jazz music, right next to the Bob James & David Sanborn collective "Double Vision." And we won't go there with Bob because you and him also collaborated at some point back in the day too. (laughter)
E.K.: I know……I know. (laughter)
For all of us….it was at that time and era, period. It was always a lot of fun. I haven't played with Bob in awhile but I run into him all the time. He's still at it too. I'm very excited about all of it.
T.H.: Considering George Benson is also on the ticket for the Playboy Jazz weekend, have you two ever discussed coming back to do another "Collaboration?" A Part II?
E.K.: No, not really. I am always open to anything. George, in a lot of ways, is too. He'll do something every once in awhile. I have gotten a call from him before and he is telling me about doing something special. And then in another 6 months he'll call again and say, "Man, I heard something today. If I can just get the tape running…." (laughter). I like the fact he is open to change and listening to everything that is going on now. That's really great.
T.H.: Both of you are legends in your own right. I believe that would be a tremendous offering to the jazz community once again. And maybe it will come to fruition once Mr. Benson reads the interview
E.K.: Yes.
T.H.: You never know….which lead to the next question: Has there been anyone else in the jazz industry you would love the idea of doing a collaboration with?
E.K.:  I have been fortunate enough to record with a lot of people over the years. Very fortunate. I've always tried to search out musicians, and not just guitarists but many great songwriters from the 60's, 70's & 80's. I had the opportunity to record Johnny Mandel (American Composer in film & jazz) and other standards. I gravitated towards other classics as well. What's very interesting, is a lot of those guys – the older ones – they want to continue with careers too. It's a very interesting thing. You don't look at a person who has written 30-40 songs that will live forever. There's not people like that out there anymore. But, I would knock on the door. The good thing with Johnny Mandel was he was all open to it. And we would put the stuff together and do it. It's just really amazing how our area of music is inclusive. Its almost like a fraternity. (chuckles). You know what I mean?
T.H.: Yes – absolutely. On another note, you have helped to inspire a lot of up and coming new guitarists yourself.
E.K.: That's really nice because it makes you feel good. It really, truly does. It's an amazing ride. I'm looking forward to continuing, making what I've been always doing – better.
T.H.: And I know thousands of people cannot wait to see you the weekend, June 15th at the Playboy Jazz Festival. In closing, I want to say Thank you for your valuable time today. I look forward to meeting you on Sunday!
E.K.: We will make that happen, that's for sure. I think this was very interesting of what we were talking about. It was very needed and I really appreciate this opportunity. Thank you very much.
T.H.: You're welcome! And we should do a Part 2 down the road when you announce the new release.
E.K.: Oh YEAH!
(Laughter!)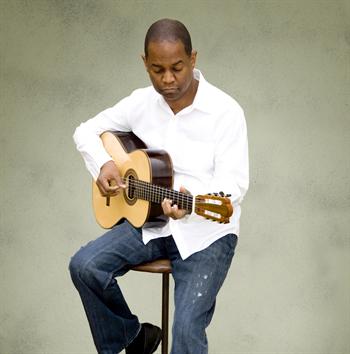 Connect with Earl Klugh:
Facebook: Earl Klugh
Twitter: Earl Klugh
Official Website: Earl Klugh
Playboy Jazz Festival: Earl Klugh
Interview by Publisher and Owner Terrill J. Hanna