Jazz Violin Master Jean-Luc Ponty Teams With Rock Vocal Guru Jon Anderson For Visionary World-Unifying Epic "Better Late Than Never"






by

Jean-Luc Ponty Talks Team-Up with Former Yes Front Man Jon Anderson for Life Affirming "Anderson Ponty Band (APB)" CD/DVD/Tour Extravaganza
Interview by A. Scott Galloway
As current events overwhelmingly decree, our planet is creaking under the weight of hate and wailing for peace and balance. For the musically astute and love-filled at heart, an unimpeachably brilliant and joyous new collaborative project between pioneering jazz-rock fusion electric violinist Jean-Luc Ponty and uber-optimistic singer/songwriter Jon Anderson, former front man of the progressive rock band Yes, is the soundtrack of hope at its most passionately sought after and prayed for. Leaping over perceived pigeonholes in glorious strides and bounds, Anderson and Ponty have pooled their catalogs to create the most humanity reconfirming musical offering of 2015 – the 14-song CD/DVD Better Late Than Never.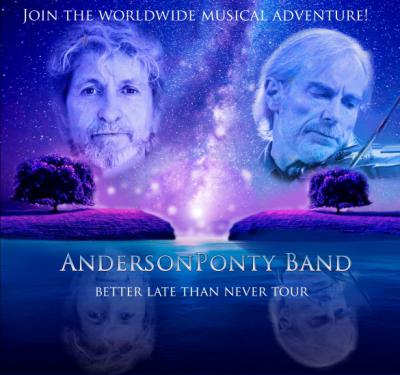 Abounding with spiritual light and meditative introspection, the album is well deep, boasting brand new songs, stunning vocal versions of Ponty instrumentals and re-imagined arrangements of Yes classics.
In the in-depth interview that follows with Ponty (who has been a member of both The Mahavishnu Orchestra AND Return to Forever), we discuss the origin of his musical mash up with Anderson, its development and key songs (including Ponty's "Renaissance" and Yes' "Owner of a Lonely Heart"), the selection of band members all from Ponty tours and recordings (drummer Rayford Griffin, guitarist Jamie Glaser, keyboardist Wally Minko and bassist Baron Browne), plus gems from Ponty's storied solo career including reflections on George Duke, Patrice Rushen and his iconic "blue violin."
Within a presentation that has zero tolerance for cynicism, to paraphrase Sly Stone, Jean-Luc and Jon got a message that says: "All the squares COME HOME."
*****
Galloway: How far back does your relationship go with Jon Anderson?
Ponty: The first time we crossed paths was in `74. I was touring with John McLaughlin and The Mahavishnu Orchestra. We did two shows in Texas with Yes. That's the first time we met in person. We met again in the `80s in Los Angeles. Jon said how much he appreciated my playing. I said likewise and he suggested we do a project some day. 30 years later in 2013, a guy that was producing a song for Jon called me to do a violin solo. It was summertime and I was on vacation so I recorded the solo in my home studio in Paris and sent it back via the internet.
When the idea came up again to put a band together, Jon immediately improvised some melodies and lyrics on a couple of my classic tunes. He sent the MP3s to me. I was so impressed that he did this so fast – right after we talked. It sounded so good while staying in the spirit of my music – respecting my compositions while adding dimension to them. I was convinced immediately we should put a band together, saying it's too bad we didn't do it sooner. Jon responded by saying, "Better late than never!" We felt that was a good title so we had that settled before we even recorded.
Galloway: What were those first two songs?
Ponty: The first songs of mine Jon interpreted were "Mirage" (from Enigmatic Ocean – 1977) and "Rhythms of Hope" (from Mystical Adventures – 1982). Both are on the album with new titles: "Infinite Mirage" and "One in the Rhythms of Hope." Jon came up with lyrics and melodies so now its collaboration.
Galloway: How can you be so positive he didn't already have them sitting ready all these years?
Ponty: (laughs) I don't think so. Now that I have worked with him for a year, I know he is very spontaneous. You talk about an idea and an hour later he's got something – very creative and on-the-spot.
Galloway: Is it unprecedented for you to be so impressed with outside lyrics to allow a new copyright? I imagine you've been approached many times.
Ponty: There have been only a few singers that sent me samples of new lyrics and melodies, but this was the first time I felt they were appropriate. Once there was a young woman from San Francisco who was pretty good but at the time I felt that it was changing the magic of the piece. When it's only instrumental you can dream and imagine what you want. With lyrics, it becomes too defined. That's why I was so impressed with Jon. The spirituality in his lyrics works very well with my style of music. We did the same for his classics. He wanted to add space for me to improvise and do some dialogue with him.
Galloway: It's all so beautifully simpatico: "Time and a Word" with the reggae vibe and "Roundabout" where you trade 8s with the organ, making the song even more joyful. It's really interesting for me. I've always appreciated Yes – my favorite album being Tales From Topographic Oceans (1973) – but I never went to see them until this year, unfortunately. After the passing of bassist/founder Chris Squire, they sounded uninspired…like they'd gone on one tour too many. However, when I listen to Better Late Than Never which you and Jon put together, your works and Yes' works are revitalized. I imagine audiences giving the band multiple standing ovations because the feeling you get from this music is reaffirming life in a time when the world is in such strife. I haven't heard an album in years that squashes the sadness and cynicism in me the way this music does.
Ponty: That is very encouraging. We thought it was a very positive result but if it's just me and Jon that are happy with it that's good enough! And you are so right about standing ovations. Every show so far we get tremendous reactions.
Galloway: The feeling of the song sequence is paced like a performance.
Ponty: That's the sequence we first performed the music in Aspen. Now on tour, we play even more songs – everything on the album plus another new song and some instrumental pieces of mine so the band members can really cut loose. I play the suite "Enigmatic Ocean," the song "Jig" and one other tune.
Galloway: Did you request any specific Yessongs of Jon to play?
Ponty: After Jon sent me what he wrote on the first two pieces, I sent him lead sheets to all the tunes I had recorded to pick what he felt were good for him to sing. Then when we were in Aspen, Jon mentioned Yes' "Owner of a Lonely Heart" and the band started playing it immediately – no problem! "Roundabout" they also knew and loved. We made just a few changes so it wouldn't be an exact copy. "Time and a Word" Jon and I chose together. My band members have also been listening to Yes despite their own styles of music, including jazz. So we were very happy with this collaboration.
Galloway: How did Aspen become ground zero as your workshop?
Ponty: Jon had done a show there last year at The Wheeler Opera House – a great small theater with good acoustics. The manager asked Jon what he was doing next. When he shared about working with me and my band, he asked, "Where are you going to rehearse?" Jon was like "I don't know, L.A. maybe." The manager said, "Why don't you do it here? You can have it for free!" The Opera House had just installed new high end recording equipment. For them it was an opportunity to test it. So it was nice for us. We got together there for the first time to rehearse for three weeks then the show at the end.
When we listened to the recording of the show, we were so happily surprised that the band was so tight. We kept 98% of what the rhythm section played. All of my solos are live and most of Jon's vocals. After listening to it, Jon and I thought we should add a few touches here and there. However, we also felt we were not quite ready to do a tour. We had a lot of music to learn plus new arrangements. We were changing things as we went along through rehearsal. It was like magic once we played a show in front of an audience. The band was really inspired.
Galloway: Why do I only hear audience applause on "Renaissance?"
Ponty: The concept is that the DVD will be the live performance and the album is a hybrid of the basic tracks with additional touches. The record label preferred a studio type album for radio so we did that with the mix. That's really an American thing because Europe loves live albums on the radio. In the `70s and `80s, a live album wasn't as clean as a studio album. Now with digital technology, we have a different mix for the album vs. the DVD.
One song has been rerecorded completely from scratch: "I See You Messenger." That's a new song written by Jon, his son and his nephew. THAT song we really messed up! It's such a catchy tune so we redid it 100% studio.
Galloway: How did the band come together?
Ponty: The band ended up being all guys who at one time or another played in my band. But it did not start that way. We started with Rayford Griffin on drums and Baron Browne on bass. They did several albums and tours with me in the `80s. The other half of the band was rock musicians brought in by Jon. The keyboardist was supposed to be Jordan Rudess of Dream Theater but he was so busy with the band that he couldn't do it. So looking at people I knew that would be appropriate, we brought in Wally Minko because he has played with pop singers in different styles but toured with me in the late `80s/early `90s. In Aspen, we had Jamie Dunlap on guitar, a famous film music writer who is also a great arranger and had played with Jon before. But after we recorded, we went home, listened and found he couldn't keep up and he was too busy with studio work to collaborate on the production or come on the road. So, again, we were looking for guitar players in the rock world. Jon heard Jamie Glaser who has been my guitarist in the late `70s to `80s. He liked him. At first we had Jamie Glaser do a few additions to what Jamie Dunlap had done. Then we decided it would be more consistent if Jamie played the whole thing. So he redid all of the guitar work.
Galloway: That speaks so much not just to the expertise and shrewdness you had over all these years in selecting musicians for your band. Your previous musicians didn't study to be "rock" or "jazz' musicians. Their passion was to be musicians – excellent on their instrument and able to play any music presented to them. Which piece surprised you most in the way it was transformed for this presentation?
Ponty: "Mirage" and "Listening With Me" based on my tune "Stay With Me" from A Taste For Passion (1979).
Galloway: I agree! The first time I heard "Listening with Me" I was blown away by what Jon conveyed through that music.
Ponty: The focus goes on the emotion of the music and the dream aspect of it. The essence of the piece was spiritual yet when it's instrumental there is the virtuosity where you may focus on the harmony or musical technique. With the added lyrics, it's purely emotional. Jon enhanced that aspect with these songs.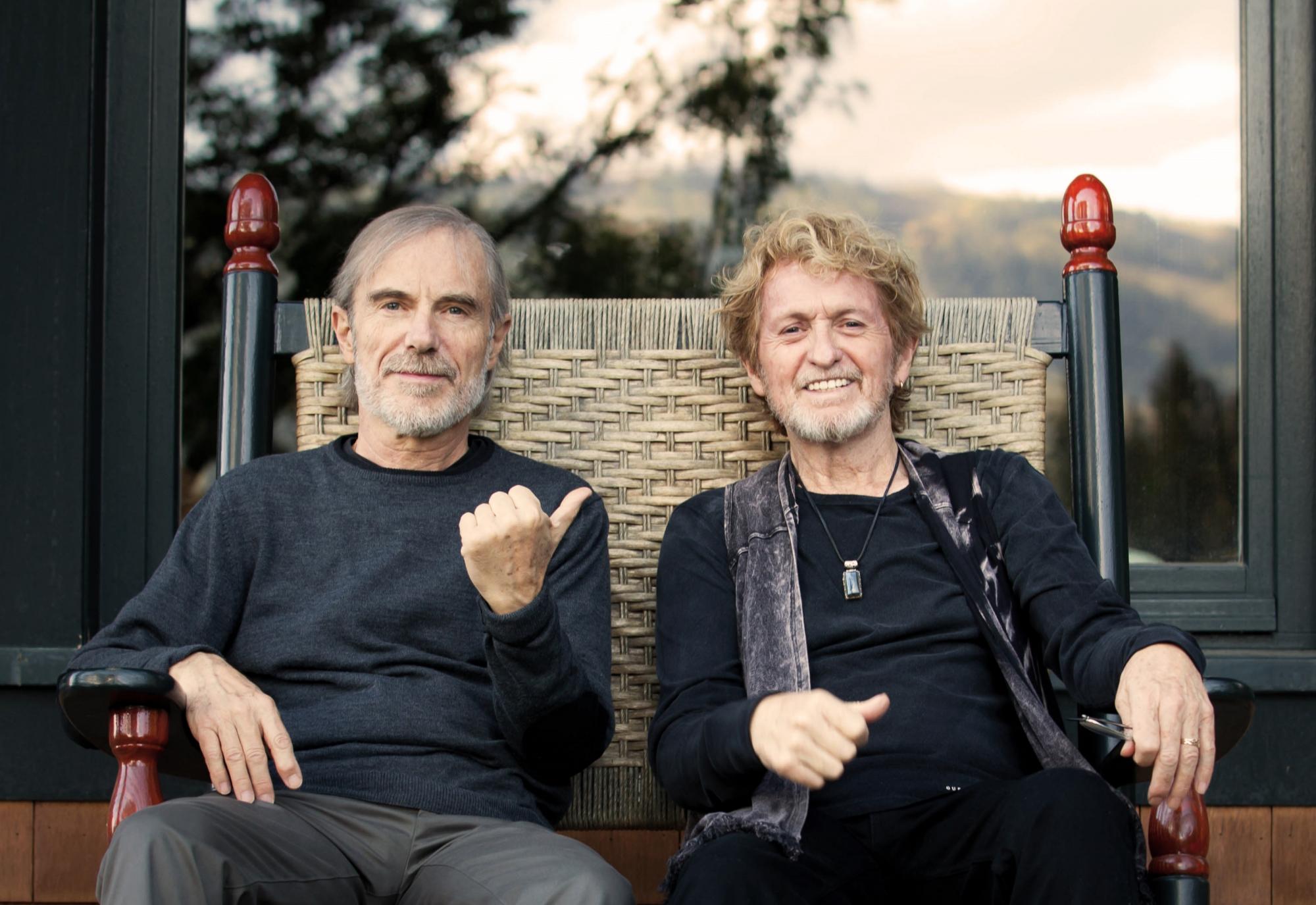 Jean-Luc & Jon (Photo by Cathy Miller)
Galloway: Jon Anderson is known for his spiritual, unifying "one love" vibration as a lyricist and singer which – in some circles – might be considered "corny" or "naïve" while in others it's a beautiful way of looking at life and the world. I wonder if working with Jon awakened anything in particular within you.
Ponty: I discovered myself – perhaps late – that, in fact, there is a spirituality that was in me through the music. You could call it something else but spirituality is a good description – the way it channels the feelings of love and unity we express in music. It can sound corny but there is a big need for that in the world. The world is going badly in so many places – so much bad news. After years in my career of going to Hollywood parties and all of this music business stuff, I discovered there is something superficial that goes with it that I didn't care for. There is something more important in life than having this type of fun and superficial thinking. Fame and glory and money, of course, can be nice rewards. But I have had this search for 30 years. I might not go through the same path as Jon or practice the same spirituality, but there is an element from years of life on this planet that helps us understand each others' music and that's why it works.
Galloway: "Renaissance," a song you first introduced in 1976 on your second Atlantic Records Lp Aurora, is your greatest hit. Prior to hearing what you and Jon did with it here as "Renaissance of the Sun," I've seen you perform it on your own shows, in the trio The Rite of Strings (with bassist Stanley Clarke and guitarist Al Di Meola), and with Chick Corea's Return to Forever. What inspired that song?
Ponty: It was a spontaneous inspiration. I finished a tour in Europe. The last day was in London. I stepped on the plane to fly back to Los Angeles and suddenly I heard the introduction – right down to the sound of the (pizzicato) plucking. I wrote it down on a sheet of music paper. The next day I was in L.A. driving around and the rest came to me – like I was a medium and this music was sent to me from somewhere. I kept singing it over and over to myself until I got home and could write it down. At the time that we recorded it, I was doing mostly electric music. But I felt that song would sound good with acoustic guitar and piano. Also for a change, I was not hearing complete drum set on it. I asked (Norman Fearrington) to only play the bass drum (and hi-hat). We added bell tree and that was it.
I don't know if it was because it was so different but radio picked it up immediately. It was played on jazz stations, folk stations, classic rock stations – everywhere. Stanley loves it so he suggested it for Return to Forever.
Galloway: How did you come to title that music "Renaissance?"
Ponty: At the time, my wife found most of my titles. With instrumental music, sometimes the inspiration was so subconscious – inspired by some life experience but sometimes hard to pinpoint what exactly triggered the inspiration. For instance, "New Country" (from Imaginary Voyage – 1976) was obvious. Arriving in the States and meeting some Nashville fiddlers, I wanted to mix that with R&B. But other songs it was more abstract. My wife was reading a lot and she would be the first to hear me compose this music at home. So she'd often suggest titles. Renaissance means new life.
Galloway: Darryl Stuermer on acoustic guitar was exquisite and Patrice Rushen's piano solo on "Renaissance" was amazing considering she was only 21.
Ponty: When I put together my first band in Los Angeles in 75, drummer Ndugu Chancler recommended Patrice. As soon as I heard her play, she was hired. But she couldn't come on the road because she was still in school. I don't remember what I had her play to audition…must have been compositions for my very first album (in America) for Atlantic Records, Upon the Wings of Music (1975).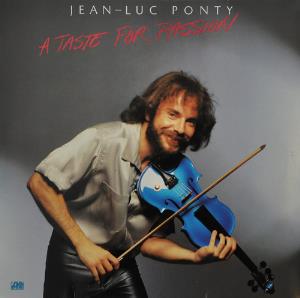 A Taste For Passion (Atlantic Records – 1979)
Galloway: One of the most iconic images of you is playing a blue violin on the cover of A Taste For Passion. Why a blue violin?
Ponty: Barcus Berry was among the first (companies) to make real electric violins – truly electro-acoustic instruments. They were buying real violins –traditionally made with wood – but to avoid feedback they came up with the idea instead of the wood finish they would do two coats of paint. The goal was to mute the sound so the wood would not resonate as much. It was the pickup in the bridge that would send a better signal. I had a green one and a white one. The blue one was the first 5-string that they made with a low C string – viola and violin together.
In the `90s, I had many flight cases I wasn't using so I had someone empty my storage space. In one case there was the blue violin – in a box for 20 years. I had completely forgotten I still had it. So I picked it up, put new strings on and tried it. That's the violin I'm using on the Aspen recordings and on this tour.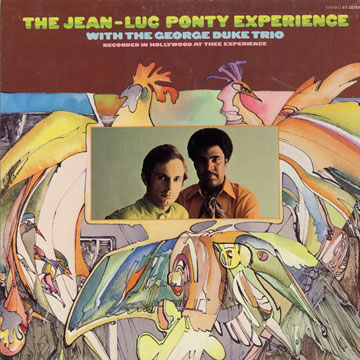 The Jean-Luc Ponty Experience with The George Duke Trio (1969)
Galloway: George Duke was a musical brother of yours in the realm of all-around music mastery. What are your remembrances of him?
Ponty: I got my first recording contract in America with a label in Los Angeles called World Pacific Jazz. I came to L.A. in `68 I believe to do some albums and gigs. I needed to find musicians to form a band. George Duke was a young guy like me also signed to that label. He already knew of me. He had previously recorded for the same German label as me. When I heard his playing which, at that time, was very inspired by Herbie Hancock and modern style of playing, I said this is exactly the style I need for my band. We got together and started recording and playing together. We practically started our careers together in L.A.
When Frank Zappa accepted to produce my next album, King Kong (1970), he was in charge of hiring and choosing musicians. My only demand was to have George Duke on my album. After I went back to Europe, Frank hired George for his band The Mothers of Invention.
The very first time we played in a club together at Donte's in Hollywood we had not rehearsed. He asked me, "What do you know – this blues, this Charlie Parker tune?"  I said I did. We counted off, "1 2 3 4," and started playing, improvising on jazz standards that we both knew. Immediately, it was like we had been playing together for years. It was unbelievable – telepathic. George was extremely talented with a fantastic personality. We became close friends immediately.
Galloway: On September 29th, you celebrated your 73rd birthday. In this conversation and the new music, you are as vibrant as ever. How do you want people to view the legacy of Jean-Luc Ponty and your contribution to the art form?
Ponty: I don't think about that. I'm too busy creating and keeping playing. People have the right to think whatever they want. I can tell at my age after so many years of career I hope to be an example for younger violinists to open their minds to new ways of playing and different kinds of music. I would have been sad if I had no followers but I can tell that around the world I have met young violinists – whether inspired by me or not – taking that path to thoroughly explore the violin. If I had been the only one to do it I would have wondered if I'd been right to do it. I feel them on the path and that makes me happy.
A. Scott Galloway
Music Editor
The Urban Music Scene