Jody Watley Reloads Shalamar and Keeps on Steppin' in Her Jerome C. Rousseau Shoes






by

Jody Watley: Fashionista…Flashinista…Shrewd Criminista
Interview and Concert Reflections by A. Scott Galloway
February 3, 2016
It's Friday night on the Sunset Strip in West Hollywood – the winding boulevard that was once the funky vanguard of Rock & Roll debauchery, California-style. Tonight at The Roxy – a landmark club of the `70s that would open its doors to everyone from Neil Young (opening week in `73) and Genesis to The Crusaders, Frank Zappa, George Benson and Bob Marley & The Wailers (who all recorded live albums there) to the `80s/`90s-era when I personally saw Chaka Khan, Wynton Marsalis, Average White Band, The Time, Phoebe Snow, Tracy Chapman, Lenny Kravitz, Israel Houghton, Wendy & Lisa and Ernie Isley, to all the local hopefuls that fill in the nights between starbursts – I was on a mission. This night marked my first trip there in years to check in on iconic and ever-evolving Jody Watley, the Soul-Pop-Dance superstar who spun out of the trio Shalamar to become an international superstar of music, video and fashion.
By all accounts this was a night destined to be unforgettable for Chicago-native Watley who has made Los Angeles her home since the mid-`70s. The January 29 date was her late father's birthday (she celebrated him first thing that morning) which, at the stroke of midnight, would morph into her own 57th birthday. Jody had every intention of ringing it in partying with a cozily packed house of friends and fans – beginning with an electrifying warm-up set by Vikter Duplaix in DJ mode.
Video: "Dancer" by Jody Watley
Having first seen Jody live with "The Classic 3" Shalamar (Jody, Howard Hewett and Jeffrey Daniel) at the outdoor Greek Theater for that assemblage's final album, The Look (1983) then during her first "Looking For a New Love" solo shows (1987) at The Wiltern, and a few club hits after, I had not witnessed Sister Watley on-stage in a minute. I had been patiently waiting to see this show as the clincher for an in-depth interview I conducted with her – a beautiful, epic conversation during which a mountain of information was shared. I needed to see for myself how Jody and her new "Shalamar Reloaded" trio were representing with a live band – No YouTube concert clip would do. It was bittersweet for me that The Roxy would be the location for this proof-putting moment of truth.
"I am a bit seasoned in my journey," Jody stated early in the show, "but still fabulous and forever grateful."
Over the course of the non-stop hour and 45 minute show, I was deeply touched by Jody's brilliantly resilient, bullishly revisionist and genuinely loving spirit. Backed by the 4-piece band of MD/keyboardist Raymond Lee, guitarist Levi Seacer, Jr. (formerly of Prince's New Power Generation), bassist Sam Sims and drummer Donnell Spencer, Jr., Jody and company rocked that ol' Roxy with an Arctic blast of fresh air fierceness.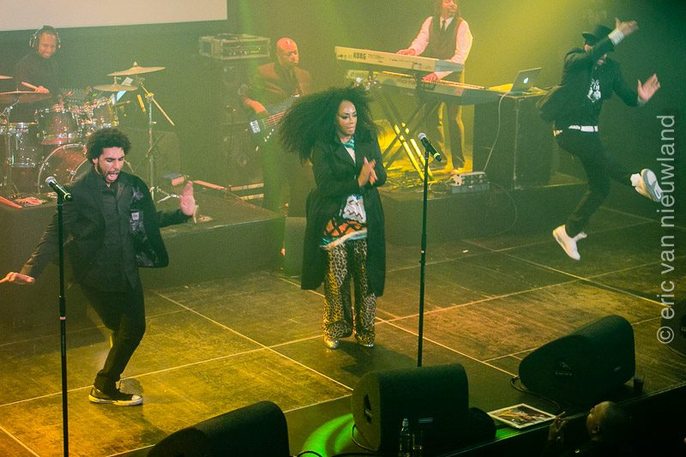 Shalamar Reloaded Live – photo by Eric Van Nieuwland
Following the declaratory opening "Don't Try to Change Me," the first touching observation was Jody singing lead on Shalamar songs originally handled by male singers back in the day such as "I Can Make You Feel Good," "Right in the Socket" and "Take That to The Bank." It was also sweet to see her eyes and smile beam to full proud wattage as she watched her Shalamar Reloaded discoveries Nate Allen Smith and Rosero McCoy handle their parts on the above songs plus "Make That Move" and the rarity "I Owe You One." Particularly surprising was a slowed down arrangement of the Jody feature "Full of Fire" on which each member meditatively dropped lines from the song almost like spoken word – as if offering up pearls from Kahlil Gibran's The Prophet. They closed out this first half of the evening with the sexy new ballad "Slowdance" (a duet between Jody and Nate) and the Shalamar smash "A Night to Remember." And it must be stated that after dates in the UK, Japan, the U.S. and Sao Paulo, Brazil, Mr. Smith is confidently claiming his own lady-slaying style on these numbers (though it also must be stated that he went nowhere near the classic Howard Hewett ballads).
Then with only a quick costume change as the band still played, Jody reemerged to rock her recent deep club jam "Dancer" with five of L.A.'s flyest dancers each taking center-stage to free-style, followed by Nate and Rosero, plus a few bold members of the audience. On the dance tip, Jody herself has refined her level of exertion – still stepping but often making more moves like a high fashion model than a veteran "Soul Train Dancer." She 'vogued' for the gods as the lights caught the blonde and black highlights of her bountiful tresses, whipping them with giddy abandon. Jody let us know she's still got it yet deferred to her young-bloods to really work out with their boundless energy and 'contempo' moves. The party continued with another recent club hit "Nightlife" followed by a cool down section of "I Want You" (a cappella by fan request), her cover of Chic's "I Want Your Love," her pop crossover ballad "Everything" (to keyboard accompaniment only) and – after a brief video retrospective – the domino slam of her defining smashes "Looking For a New Love," "Some Kind of Lover," "Don't You Want Me," "Friends" and the finale "Real Love."
Through all the movement, mania and emotion of the night, Watley consistently hit her lead vocal marks while some of the group parts were more unison than full harmony – a reasonable compromise given the sheer volume of dancing that she and the gentlemen do – non-stop.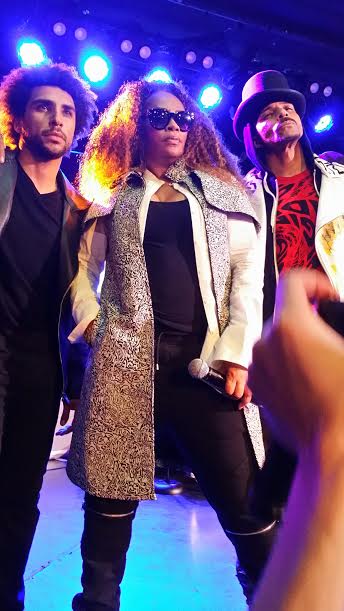 Shalamar Reloaded – The Roxy – Jan. 29, 2016 (Photo: Manny Moreno)
The most telling moment of the evening came in the middle during a chill lounge piece entitled "Sanctuary" where Jody knelt down, looked into the eyes of  audience members before her and repeated over and over with gentle reassurance, "create an environment of love," while giving each of her instrumentalists some solo space. It was in this moment that Jody's longtime mission of crusading for love, peace and unity through her music – once sung peer to peer – took on the world-wise urgency of a deeply concerned mother.
Who would have imagined that the pretty brown-skinned girl with the big bright smile riding a dolphin wearing a curves-hugging red bodysuit and silver spike heels on the cover of Shalamar's Big Fun LP (SOLAR – 1979) would evolve into such a forthright force as a trend-setting artist, fashionista and businesswoman, including releasing her 5th album, Affection, on her own Avitone Records imprint. Honored with a Billboard Lifetime Achievement Award in 2008 after topping its Dance chart 13 times, Watley also changed the game by introducing the concept of singers collaborating with rappers via her hit song "Friends" with Hip Hop duo Eric B & Rakim in 1989. Fast forward to 2002 and the "Rap/Sung Collaboration" got its own Grammy category.
The "Shrewd Criminista" part of my article's three-pronged title is a respectful nod to how Watley "made that move" – sleuthing and surrounding herself with power player attorneys Michael L. Lovitz (IP Law) and Albert F. Davis (Trademark and IP Law) – enabling her to acquire copyright ownership of the Shalamar brand that may have been "assumed" to be locked down in perpetuity. It's a coup that one who once felt underestimated can revel in as a triumphant if ironic comeuppance. A legal counter challenge has been made regarding Watley's new ownership by family members of SOLAR Records founder Dick Griffey. But as it stands right now, Jody Watley is in control of the Shalamar trademark and branding ship.
I hadn't interviewed Ms. Watley since a 1997 cover story in Urban Network for her one CD on Atlantic Records, Flower. Back then she told me, "Unfortunately, when you have been around for a long time, some people start to think you've reached your peak or you're too old…blah-blah-blah. But I am such a believer in myself that I just don't give up. I'm like the Energizer Bunny. In life, there's always some obstacle and you have to be really relentless in whatever it is you're doing. Not everybody is always going to be sharing or 'feeling' your vision."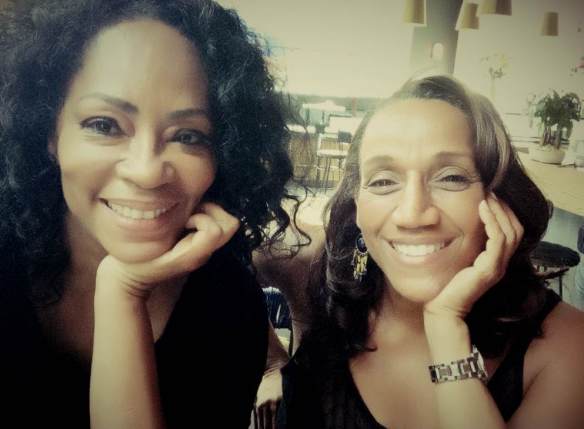 Jody Watley and Kathy Sledge – Survivors
The here, now and the future are what Watley has always been about – evolution, betterment and the pursuit of what's next via her company, Avid Music.
When I arrived at the informal French bistro Zinque` on Melrose to reunite with Jody after many years, she was right behind me wearing a blue Adidas sweat suit with heels by Jerome C. Rousseau on her feet (the hot young designer created an entire collection inspired by Jody) and light gray mirrored oval specs by Oliver Peoples on her face – not atop her head – as they had prescription lenses. "Glasses, now that I need them, have become a style passion along with shoes," she said laughing. When we took our prerequisite ussie/selfies after our chat, I lamented I hadn't seen her eyes all day. Blaming allergies, she promised me a rain check photo, shades-free. Needless to say, she was still effervescent and stunning.
With Shalamar Reloaded now officially Jody, Nate and Rosero's name and trademark,
the trio is moving forward with a bold Hip Hop-Dance single, "O. R. I. G. IN. A. L.," slated for release this spring via their licensing affiliation with Spectra Music Group. Jody states, "Our goal is to continue building our foundation, identity and our own catalog."
In the extensive chat that follows, fans, naysayers and the curious will find a woman who is colorful, candid, calculating and real.
****
Scott: I was always under the impression that Dick Griffey created and owned the name "Shalamar" since they came to life under SOLAR Records. What is the origination of the name and how did you come to own it?
Jody: Shalamar started through Soul Train Records (started by "Soul Train" TV host Don Cornelius and businessman/concert promoter Dick Griffey, who eventually bought out Cornelius and rechristened the label SOLAR, an acronym for Sound of Los Angeles Records). SOLAR later went out of business. The master rights are with the company Unidisc which licenses the classic recordings of Shalamar, the Whispers and others. Internationally, the music is re-released on indie labels but as an entity, SOLAR was dormant.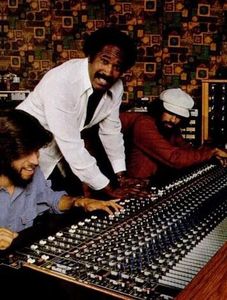 Dick Griffey at mixing board between Steve Hodge & Leon Sylvers

Shalamar "Uptown Festival" on Soul Train Records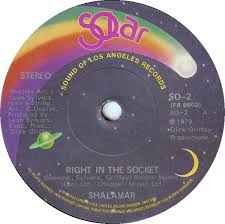 Shalamar "Right in the Socket" on SOLAR Records
Where I come in with the trademark is there was a television appearance in the UK and subsequent live performances where my likeness from my time as an original member of Shalamar – and a member of the popular classic lineup – was being used to promote other people and their shows. That was bad business, false advertising and a violation of my right to privacy.
This was during the MySpace days. The result of all that (confusion about shows) was fans messaging me, "Why weren't you there" – because they saw my picture in the ads. In some instances, it was my likeness but they took my name out and put someone else's name in. It was shady and having a negative effect on my reputation as an artist with people thinking, "She didn't show up" or "she refused to come." I sought my attorneys to draw up a cease and desist. My legal team looked into the ownership. There wasn't one on record. That's how it all got my attention and the attention of my attorneys.
Fast forward to today, I am the legal registered trademark owner. The United States Patent and Trademark Office investigated me for two years.
Scott: What does that entail: "investigating you?"
Jody: When anyone applies for a trademark registration, the government does an extensive search to check you out and see if you are credible. It may be a bitter pill for some to accept but for me its business. After I acquired the legal rights…
Scott: …they had to do a new photo shoot!
Jody: Right…finally (laughs)! And that is the end result of me becoming the copyright owner.
I became the legal and registered trademark owner of Shalamar in May of 2014 after a thorough and lengthy examining process by the United States Patent and Trademark Office (USPTO). My federal trademark registration number is #4530877 for all avoidance of doubt. The registration was obtained legally with expert counsel in trademark law. At that point they had to take it serious.
Becoming owner, I had to decide, "O.K., what am I going to do with this?"
Scott: So initially you did it as a defense move then thought, "Now that I own it, I can do something with it."
Jody: Being respectful to the legacy, I had a lot of things to consider. Usually I always want to move forward…but part of what got me thinking about Shalamar again was recording the song "Nightlife" (the first single from Jody's EP Paradise) as a duet with Gerald Brown (the second lead singer of Shalamar after Gary Mumford). It was a way to acknowledge my newfound love for Soul/Disco and even my own legacy/history with Shalamar. Gerald was long forgotten about which, to me, was wrong. He was erased and I could see, "that's what they're trying to do to me." Bring someone else in and change the name, that's pretty much what they did with Gerald.
Video: "Nightlife" by Jody Watley
Scott: I heard some of that was Mr. Brown's own doing.
Jody: That's not especially true. He brought it upon himself in that any time you're a person that starts asking questions or takes care of business, it's like, "You're trippin'. Just go with the flow. What do you mean you want to see a contract? Get the hell out of my office!"
Scott: Gerald was older and had already been around the industry, right?
Jody: Right. He was trying to teach us. That's why I always had a lot of respect for Gerald. He got a bad rap for trying to take care of business, just like me.
Scott: Was Gerald still singing when you reached out?
Jody: As much as he could…but he'd become a school teacher.
I wrote "Nightlife" with some guys from France called Count De Money. I was already opening my show with it solo. I had never done that before – live with a song before I recorded it. The only way I could fit it in my show was to open with it because it was so different from everything else but because it was so up, people loved it right away. I did "Nightlife" before Daft Punk's "Get Lucky" came out. Because I had already been doing EDM/Electronica, what had become popular I had already done. So I felt I needed to go back and be a little more organic Disco-Soul-Funk – a la Phyllis Hyman, Brass Construction, Chic – but make it fresh. As I was performing it, in my head I started hearing a male voice. I thought, "This is like a Shalamar record…I should get Gerald who sang 'Take That To The Bank.' Conceptually, that would be cool to bring it all back around and give Gerald some shine. He's in the video, too. He told me, "You brought me back from the dead."
Scott: How did you find Rosero and Nate for Shalamar Reloaded?
Jody: Rosero had already been dancing with me. He helped me find Nate. There were 20 or so guys that auditioned here in L.A. The funny thing is none of them knew what they were coming to audition for. Rosero put out the call. He's worked with Usher and Beyonce', and on several films and TV music programs like "The Sing Off," so they didn't know what they were coming in for. Some guys were great singers but couldn't dance. The choreography challenge wiped out a whole lot of people. I needed "show people" that could sing.
Scott: That had to be tough because there's not much of that going on anymore.
Jody: Exactly but when Nate walked in, he had star quality. He's fine, number one…just something about him. He sang a John Legend song that I really don't like but I liked the way he sang it. Then he sang "Second Time Around." Most of the guys were flustered seeing me. Nate was nervous, too, but he handled it.
So we put Nate to the test. "We're doing B.B. King's club and it's sold out. Let's see if you can handle that." He was put right into the fire and killed it. I said, "Well, if you can make it in New York, you can make it anywhere."
Now I have two younger guys which is smart business. It's a way for me, as the brand owner, to bring in a younger audience that may not know Shalamar from their parents' record collection. People love them. They're not imposters – they have their own vibe, plus Nate and Rosero are very humble and respectful. Throughout my career, energy has been very important to me – a person's vibe. Life is too short. I like to have a good time. My new guys give me the opportunity to do Shalamar with fresh energy.
Ironically, Nate is from a small town in Ohio (Howard Hewett was from Akron) – sings and dances. Nate has a great tone. It blends with mine. And because my voice was always the anchor of the Shalamar harmony sound, it sounds like "Shalamar." Rosero dances and sings. So we all have that show time spirit. We all dance and nobody is like, "Aw, man, I don't want to do that!" Rosero comes up with great choreography ideas so I don't have to think of everything. That's refreshing in this situation because I'm doing so many things. They can keep up with me. If I didn't know how old I was, I'm "25 forever."
Scott: For 30-plus years you have been doing your thing but Howard and Jeffrey and other girls (since 2001, Carolyn Griffey, daughter of Dick Griffey and singer Carrie Lucas, and former member of the `90s duo Absolute) have been doing shows mostly in the UK. Some would say they have been keeping the Shalamar brand alive all these years while you focused solely on Jody. Why would you want the name now?
Jody: Other people aren't as respectful of me as I am of them. I'm not trying to erase anybody's legacy. Some people are trying to make it that they have a legacy but they don't. I worked for mine. I'm singing on the hits. My likeness is used to help other people go and make money. I mean, there were Shalamars after Howard and Jeffrey left, too. Those pictures weren't being used. It was always the pictures with me. I had to put a stop to that. I'm still Jody Watley and Shalamar is Shalamar. (You're) singing songs that I helped make famous. If it's you then use your face. They don't even mention Delisa (Davis), the girl who came in after me.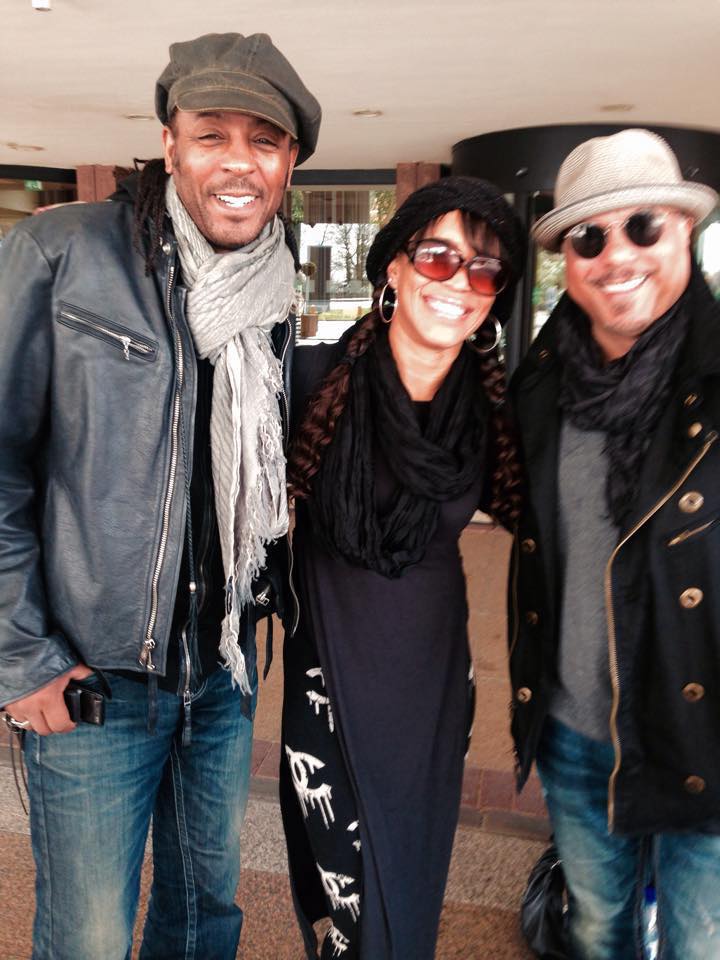 Shalamar featuring Jeffrey Daniel, Carolyn Griffey & Howard Hewett
In terms of keeping the name alive, no one has done it more than me – from my solo debut and every feature from Right On to Harper's Bazaar, Rolling Stone to Ebony or appearances from Access Hollywood to Yahoo Music – no other member receives publicity in the media as I do. Even when I wanted to escape the baggage, I had to come to terms with it as I continued to grow. There is no other woman or former member more notable from Shalamar than I am for generating press.
Scott: Down the line, do you think you might, as owner of Shalamar, do a formal event of inviting Jeffrey and Howard to have a proper "farewell?"
Jody: Several years ago, I pitched a "farewell" tour for America but that's when "the Carol woman" said she was the owner (of the Shalamar name) and didn't want that to happen unless she could be a part of it. After I became owner of the trademark, a reunion at the Essence Music Festival was one of the first things I offered. I had performed there solo very successfully and they wanted me to come back. But again, (Carolyn) said she had to be a part of it, too. What is she going to do? She didn't sing on any of the hits!
When Nile Rodgers does Chic shows today, he takes two girls that AREN'T Alfa Anderson, Luci Martin or Norma Jean Wright. Nobody is saying, "How is he doing that without them?" That's who HE picks to go with him and be Chic now because he's the trademark owner. I just saw Alfa and Norma in New York at a charity event. They're "The Former Ladies of Chic" (now under the new name Next Step).
Video: Babyface f/ LL Cool J, Howard Hewett, Jody Watley & Jeffrey Daniel performing "This is For the Lover in You"  – 1998
The fact of the matter is that we did reunite on a song for Babyface (a platinum-selling1996 remake of Shalamar's 1980 hit "This Is For The Lover In You" billed as Babyface featuring LL Cool J, Howard Hewett, Jody Watley and Jeffrey Daniel) AND we reunited for a "Top of the Pops" TV show in London. What most people don't know is we also recorded a reunion song for my album, Flower (1998) – an unreleased song called "Just One More Time." We were all together in that studio on Beverly where Michael Jackson used to record all the time. We tried but it didn't work. We had no chemistry… 'The Classic 3' also almost did an album with Babyface but that didn't work because the business and creative was wrong.
Fans have a fantasy of wanting things to be like it was – or like they think it was – back in 1980. Well, it's never going to be that way. I'm not 18. I'm a successful woman and artist – strong and opinionated – and nobody's telling me what to do.
Reunions are not my thing because the past is the past – a moment in time. As my brand, I can't be on stage as Jody Watley going through the motions. I'm not like, "Nate and Rosero, go on YouTube, see what we did back in the day and let's do that." That's' easy. I made those steps up when I was 18 years-old. I still know them. That doesn't mean that's what I want to do. You move on.
Also on the business side, reunions of black groups are never like Fleetwood Mac or the Eagles getting back together. It's not like everybody is in a private jet with corporate sponsorship and everybody's putting 50 million in the bank. I can deal with you for 50 million! But I'm being honest – it's not like that. People say, "Go get that money," but I'm going to make money anyway. I'll do a charity thing for free or not that much money if I'm going to have a good time with it. But to make a lot of money and be miserable is not worth it for me.
I proposed a one-time Shalamar reunion to the Essence Festival – the place to do it because everybody comes out. At some point maybe that will happen…for the fans. It would depend on the business and creative, but that won't have any impact either way moving forward with the business of Shalamar or Jody Watley.
Scott: What are you thinking conceptually for a Shalamar Reloaded LP?
Jody: I'll know once we release the singles. One is down tempo and one is up tempo. The first song, "Slowdance," is a nod to the Shalamar that people remember. It's soulful, it's sexy, it's a groover and it's hot. It's a duet and I love that. I miss that male/female thing.
The other one will be up tempo. I'm writing the lyrics to a track sent to me by a guy in Germany. It's so funky I was like, "Are you sure you're from Germany?" I said, "Nate, you better sing the hell out of that song." And he did.
I love the tone of Nate's voice. One lady that was an old school Shalamar fan told me, "I think I got pregnant as soon as he started singin'!" Someone else said he reminded them of KEM. Another guy in a suit and tie said, "I didn't know what to expect. This young man had some shoes to fill and he more than filled them." Nate was very humbled.
Rosero also sent me a song from a young writer and said, "Check this out, this is dope!" I liked it. I'm not sure if it's Shalamar but we will try it. They have a voice, too. It's not just me dictating what to do. When I sent them "Slowdance," I said, "If you guys hate it, we don't have to do it but we're gonna try it." Lucky for me, they loved it and I was relieved.
I love watching them dance… Like the kids say today, "You're giving me life!" The crazy thing that happens live with Shalamar Reloaded is when I come back out solo after a wardrobe change, the energy goes up a thousand percent – like, "We love that she's doing Shalamar again but the Jody songs are what we've been waiting for!" Not many artists from groups can do that. It's a very small club. I'm very proud of that – to bring it all together this way.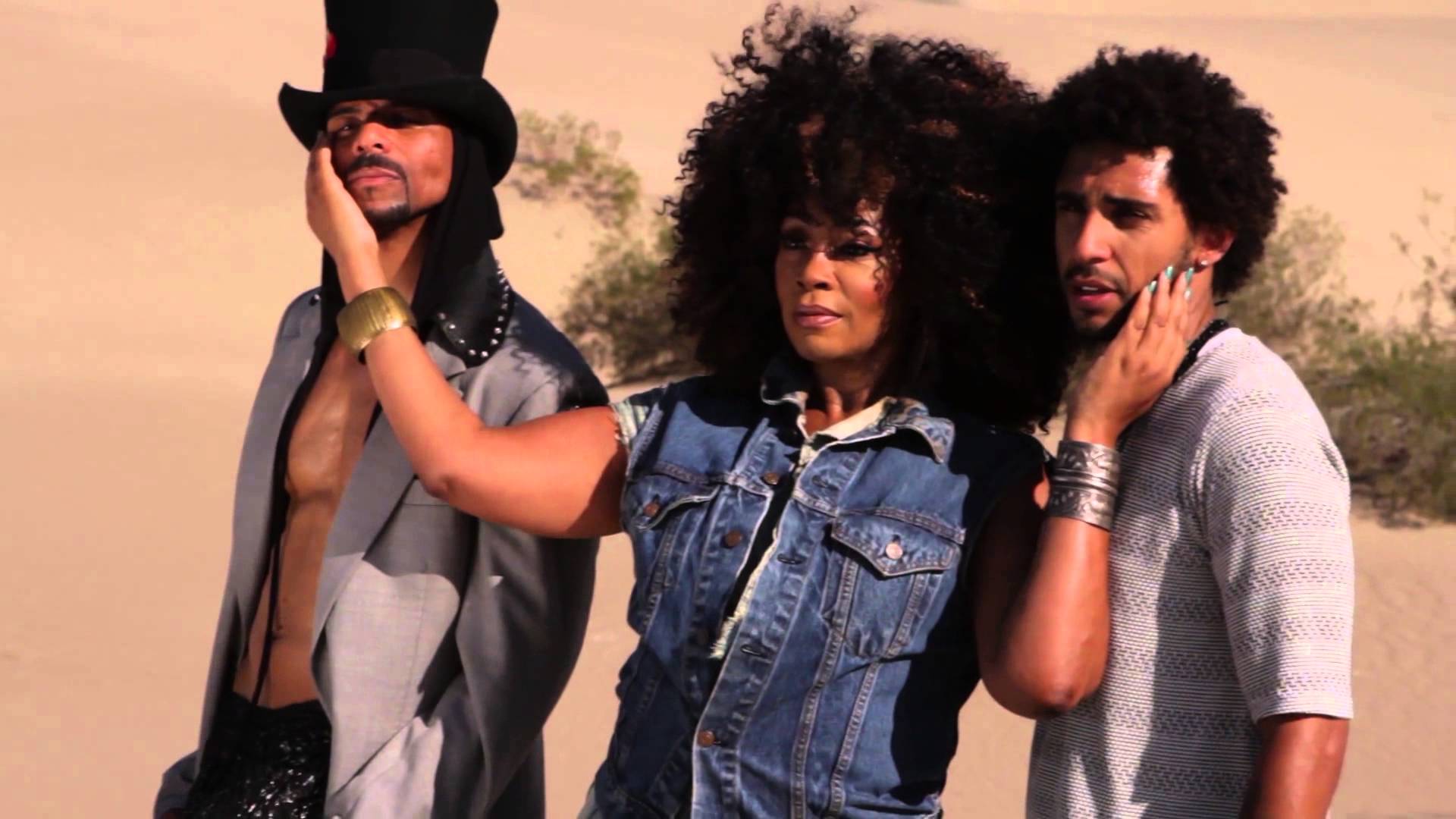 Shalamar Reloaded – Jody's Boys
Groups don't even exist anymore. Nate, Rosero and I give you that and, maybe, can start that trend again. Then each of us can go off and be solo artists.
Scott: How do you keep up with contemporary music today?
Jody: I'm still a dance music girl so I seek out things. I discover a lot of music on Soundcloud. I love internet radio and KCRW. A lot of my DJ friends send me stuff to check out. They're all young guys but very musical so I'm very fortunate to have that kind of connection with people at the pulse of clubs. Bill Coleman from Peace Biscuit is always great to run ideas by. Soulfood Music in the U.K., Steve Ripley and Matt Waterhouse that represent other DJs send me links for things I request. Casamina and I became Twitter friends so I also meet people through social media. I met Mark de Clive-Lowe through MySpace and we collaborated for my Midnight Lounge CD. He's a jazz musician and an incredible DJ/remixer. He did a remix on Verve Remixed of Sarah Vaughan's "Whatever Lola Wants." I was like, "I need to find him!" I met Dimitri of Paris via social media. I love that. It's kind of organic in that way, too.
I collaborate with people all the time – DJs, producers, writers – so I know I work well with people if the mindset is right. I don't have a problem with anybody. If you respect me, I'm good with you. But people that treat me poorly I don't have time for that. And being a woman, people want you to stay status quo. Some guys are threatened by…how I am. That was a clash back then. "Oh, stop being a bitch all the time." If I didn't like something, I said it. If I was a guy, "Oh, he's shrewd."
Scott: Has it always been a male/female thing in your eyes?
Jody: When I won the Best New Artist Grammy, people were like, "She's not a new artist." Yes I was new! It was the first time people knew Jody Watley solo – not as a part of a group. I went into it like I'd never done anything in my life to establish a new identity. That's why I made the impact that I did.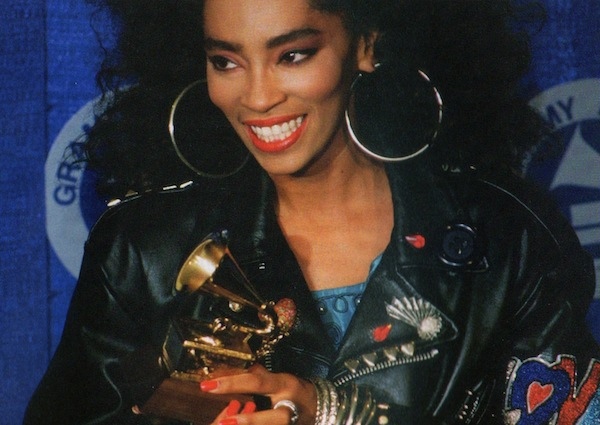 Jody Watley – 30th Annual Grammy Awards in the press room at Radio City Music Hall, New York City – March 2, 1988
There was a lot of bitterness toward me for leaving Shalamar and becoming a successful solo artist. As I got older, I never stopped learning and growing. A lot of people don't like me because I'm my own person – independent and successful. When I went into MCA Records as a solo artist I wanted to be in control because I had learned something. If you don't take your lessons in life and business then apply them, you'll have people abusing you – taking full advantage.
Some people are like, "Why is she the one owning 'Shalamar?'" You should be happy for me! "That's badass. Good for you, Jody Watley! Haters are gonna hate but she took care of business – took something and flipped the script." How many people do that or are even smart enough to think "Let me check into this?"
It's like Michael Jackson with the ATV Publishing. Paul McCartney had the same opportunities to buy that publishing. Michael Jackson had the shrewdness to do it. But I'm a woman so I don't get to be shrewd. I get called something else. My dad always told me, "It's not what other people think of you it's what you think about yourself." That's been my life, always.
Maybe one day Richard Branson (the English businessman/investor best known as founder of Virgin Group, comprised of over 400 companies) will tell me what a great businesswoman I am.
Scott: Outside of performing, do you travel much for vacations?
Jody: Never. I think the last vacation I had was taking my kids to Maui ten years ago. I take my vacations in my house – just chill and light my Jody Watley "Sanctuary" and "Paradise" candles. I have a candle line, you know.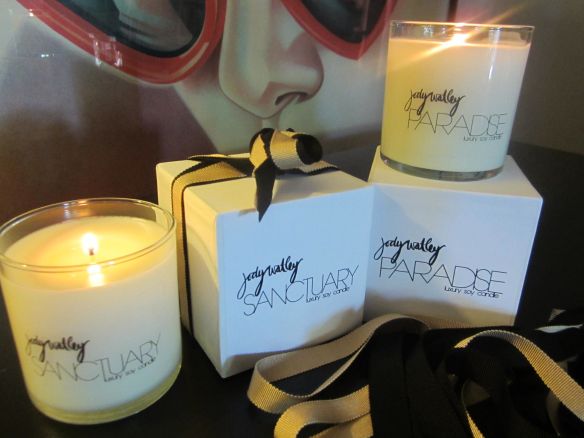 There's also Shalamar merchandise now. People can buy t-shirts and baseball hats with more items to come. Shalamar has its own online boutique – a real brand.
Scott: 2017 will mark your 40th anniversary as a recording/performing artist since Shalamar's debut LP, Uptown Festival (Soul Train Records – 1977).
Jody: I'm very fortunate because I have written hit songs. I haven't toured a lot. I had the luxury to stay home and didn't have to take every gig that came along. I didn't want to travel. I raised my kids and I'm glad I made that choice. It kept me grounded. Time goes so fast… The one thing I would want to go back in time for is when my kids were little so we can go to the park and play… My daughter just graduated college and my son is in college. Now I have flexibility and can travel.
When I wake up and get on my knees, I'm very thankful and happy to be alive. I think that comes through in the work energy, too. What I want people to take away from my story, most of all, is, "When I look at you, I'm inspired." I get that a lot and that is everything to me.
A. Scott Galloway
Music Editor
The Urban Music Scene
February 3, 2016
A. Scott Galloway is a Music Journalist based in Los Angeles whose specialty niche is composing liner note essays for classic CD reissues and compilations. To date, he was written over 300 including the SOLAR titles Shalamar The Look, Shalamar Anthology, Whispers Love for Love, Lakeside Fantastic Voyage and Midnight Star No Parking on the Dance Floor.