L.A. Radio Vet LeRoy Downs Brings Jazz Back To Television






by

Jazz Radio Host LeRoy Downs Brings Contemporary Spin to Jazz on Television with "The Jazz Creative"
Story by A. Scott Galloway
February 25, 2016
Jazz on television has gone from cigarette sponsored quarter hour black-and-white segments – often put on late night – to a cable network scrambling to fill 24/7 with jazz content. Los Angeles Jazz radio host LeRoy Downs has long held a vision of presenting the music in a fresh context to keep lovers of the music up on the latest and, more importantly, coaxing others that hold the art form at arm's length to step into the embrace. In the interview that follows, Downs discusses his new monthly television program "The Jazz Creative," debuting Friday, February 26 at 10 P.M. PST/1 A.M. EST, on the Aspire Network (check internet listings for how to see it on TV where you live).
Scott: Congratulations on a long time dream slowly but surely coming to life.
LeRoy: Thank you. It's been in the back of my mind for decades to do something like this. About 10 years ago I did a show but kept it in my pocket. I knew all about jazz but very little about television. Now after having the opportunity to host the Monterey Jazz Festival and be on the radio, I met a gentleman named Fred Smith – the CEO of All Music Television. He's been watching me for many years starting with when I hosted a Playboy Jazz Cruise in 2008. He's been in television for 40 years but wanted to take his experience and do something with music. We became a match made in heaven.
Scott: What sparked your initial interest in jazz and why has it been such a passion for you ever since?
LeRoy: I was born and raised in L.A. and came up listening to 1580 KDAY-AM – Hip Hop radio. But after morning, noon and night of hearing the same songs all the time, I got tired of the repetition. I felt there had to be more music out there. I went to Fairfax High School and right across the street was Aron's Records, a great place to dig in the crates. I switched over to cats like David Sanborn. Then I looked on the back of the cover and saw who his bass player was (Marcus Miller) and got into him. And so on. I'd walk into Aron's with a $20 bill and walk out with 25 albums like George Duke and Jean-Luc Ponty. Then there was as a station called KUTE "The Quiet Storm" that turned me on to folks like Michael Franks. Then I found KLON which played jazz. I didn't understand it at first but I stuck with it.
It was Terence Blanchard and Roy Hargrove that sparked my initial journey of getting really deep into this music, One reason was because they were my age – the young lions at the time – developing their signature sound and covering standards. So I got to hear old tunes interpreted by young contemporaries. I got rid of all those other albums mentioned that I needed to move on from and picked up on Joshua Redman and Christian McBride which led me back to Miles, Trane and Monk.
Soon as I opened up that door, I decided I might like to do a radio show, I felt like I had a pretty good voice so I sent a tape to KLON. They liked it but didn't have a slot open for me so I became a volunteer once a week. Just when I was about to quit to get a job that made money, the Operations Manager came in and said, "I'm going to do a show from 7 to midnight. I'll do the first three hours and you can do the last two." That was my first opportunity to be on the air. I started digging into their library and anything that (producer) Orrin Keepnews' name was on, I was all over it. I went from one 6-hour overnight show a week to 5 nights a week 5 hours apiece. Since I was on from midnight to 6AM, I had no restrictions on what I could play. That's when I cultivated my love for the music.
Long story short, I was fired from the station after about a year for standing up to management about a letter they sent me about not following a directive about the playlist (an Eric Dolphy record was the culprit). But after a new regime came in, I came back. This time, when I went to the library, I realized I couldn't play the same music anymore. I had already saturated myself with that. All of the musicians I was encountering in Chicago, New York and right here in L.A., the station didn't have any of their music. I had a two hour show on Saturday and started bringing my own CDs into the studio. I felt people shouldn't just be hearing songs or tunes. It's an experience of sounds and colors. My goal is for our people to be excited about great music they've never heard and for us all to learn about it together.
"The Jazz Creative" Trailer

Scott: You worked as a photographer for a short period and developed a great eye. What has the transition from the audio medium of radio into the visual medium of television been like in terms of capturing jazz for a viewing audience?
LeRoy: As much as I love this music, I never learned to play an instrument. But I always want to put musicians "on high" to honor them. I had to be part of this in some way. I didn't see enough people loving or understanding it. My thought was maybe it's because only one sense was being activated. You have to activate more than one sense to get a vibe on the music.
Back when I worked in real estate, I sold a house, took my commission and a cameraman to Denver, spent some time with Dianne Reeves and created a show called" Hangin' With The Jazz Cat." I felt if people got a chance to see the artist in their home environment involved in some personal hobbies, it would open up the perspective. So I went grocery shopping with Dianne, came back to her house and watched her cook, showing her home and interviewing her the whole time. We learned about the person then got back into their music and talent. That way the next time someone saw a billboard, an ad or heard them on the radio, they'd think, "I know who that is," and be more inclined to come see them in concert and/or purchase their music.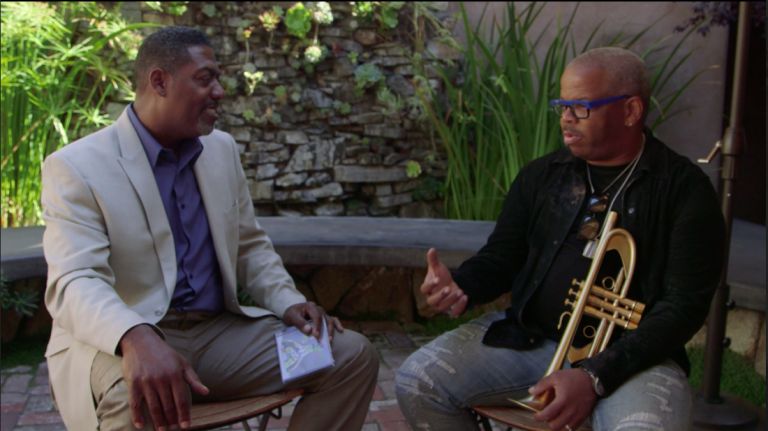 LeRoy Downs with Terence Blanchard
Since then, I've gone through several generations of this show. We did a holiday special last December called "Christmas Jazz with Leroy Downs" that was strictly a 28-minute performance show. The current one is called "The Jazz Creative" which has interview and performance elements. I have trumpeter Terence Blanchard talking about film scoring, bassist Christian McBride talking about Philly Soul and Gamble & Huff, and pianist Jason Moran talking about his experiences. Then we have some performances done at a beautiful home in the Pacific Palisades by trumpeter Theo Croker and pianist Cameron Graves. 30 minutes is a short amount of time but we get in as much content as possible.
The show debuts Friday, February 26th and we have another date slotted for March 25th. We already have enough content to do several shows but we hope to speak to Don Cheadle and Robert Glasper in conjunction with the new film "Miles Ahead" which opens the following Friday on April 1st.
Scott: Jazz has a long and checkered history on television across the decades. Did you take any lessons from that past to shape your new program?
LeRoy: One of the biggest problems when you say the word jazz to people is they turn around and look backwards…like 40 or 50 years backwards! I didn't want to do any sort of stereotypical smoky nightclub stuff. It's 2016. We want to put jazz in a positive light and change the perspective from it being this old music that your parents listened to. That's why we feature a lot of young contemporary players. The house we used is one I celebrated my 40th birthday in – very open with a lot of natural light…a great way to give the music a little more intimacy.
You know, when I was at "K-Jazz" (KKJZ, formerly KLON), one thing the programmers used to tell me was to look at some of (veteran jazz disc jockey) Sam Fields' playlists to see how he put a show together…advice I never followed. I don't want to play what they played. My learning experience is coming naturally. I always had an idea of how I wanted to shape jazz on television and it didn't stem from things of the past. It came from the premise of trying to make the jazz musician a person in the eyes of the layman – so they can discover them first as a human being then learn about their great talent as artists.
Scott: Do you have a favorite moment in jazz on television?
LeRoy: Actually there was something else that was pinnacle for me concerning this whole idea. It wasn't a television show but a movie in 1985 called "Bring on the Night." It was about (rock star) Sting traveling around Europe with a new band of mostly jazz musicians – Kenny Kirkland, Branford Marsalis, Omar Hakim and Daryl Jones. This was right when I was getting into the music and I thought the way (director Michael Apted) shot that movie as incredible! There was a story being told about these musicians and then you'd see them perform. I was blown away and I know that was the subliminal impetus for what I've always wanted to create for our jazz musicians of today.
A. Scott Galloway
Music Editor
The Urban Music Scene
February 25, 2016